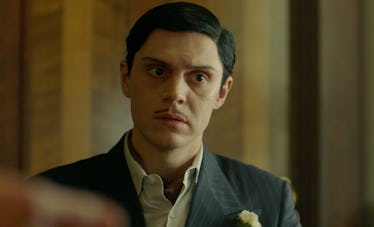 'AHS: Apocalypse' Delivered Much More 'AHS: Hotel' Crossover Than Anyone Expected
FX
We already knew that this season of American Horror Story would center on a crossover between past seasons Murder House and Coven, but Wednesday night's latest episode surprised viewers by throwing another past season into the mix. In its fourth episode, AHS: Apocalypse brought back the setting and one of the stars of AHS: Hotel, which might have had some fans wondering, who is James March on AHS: Apocalypse? We have already seen Evan Peters in one role this season, and on the latest episode he brought back one of his fan-favorite AHS characters.
Spoiler alert: This post will discuss details from American Horror Story: Apocalypse Episode 4, "Could It Be... Satan?" Some eagle-eyed fans already had their suspicions that Episode 4 would include a nod to Hotel thanks to a quick shot of the Hotel Cortez in the teaser, but the Hotel crossover turned out to be much more than just a brief wink. The new episode flashed back to three years before nuclear bombs laid waste to earth, revealing that Michael Langdon came into his antichrist powers at an academy for warlocks. After he displayed a shocking (and scary) mastery of magic, the warlocks asked Supreme Cordelia Goode to administer the Seven Wonders test to Michael, but she refused, saying it would be murder for a warlock since men are innately less magically powerful than women. And that's what brings us back to the Hotel Cortez.
Cordelia reveals that her biggest failure as the Supreme is that she was unable to free Queenie's spirit from the evil hold of the Hotel Cortez, where she was killed during the events of AHS: Hotel. In a flashback, we see Cordelia try to escort Queenie out of the hotel, only for her to be transported back inside after each attempt.
We also see that Queenie has made an unlikely friend during her afterlife in the Hotel Cortez: none other than the hotel's designer James March. Yep — Evan Peters brought back his pencil-thin mustache and his old-timey accent to play the ghost of James March, the serial killer whom we saw haunt the halls of the Hotel Cortez throughout AHS: Hotel. In case you forgot about him, James March originally designed the Hotel Cortez in the 1920s as a veritable playground of murder, filling it with secret dungeons and torture chambers where he could indulge in his passion for killing.
James March was definitely a creepy presence in Hotel, but his cameo in Apocalypse was actually more silly than scary. He seems to have formed a surprising bond with Queenie after playing thousands of games of gin with her, but he is forced to go back to playing solitaire when Michael Langdon shows up. In a play to show his power to Cordelia, Michael frees Queenie from the Hotel Cortez, and James March seems to immediately recognize (and fear) Michael's command over the dead.
Since Queenie's spirit is now free, we probably will not be seeing the Hotel Cortez again this season, but it was definitely fun for fans to add yet another season to Apocalypse's crossover list.