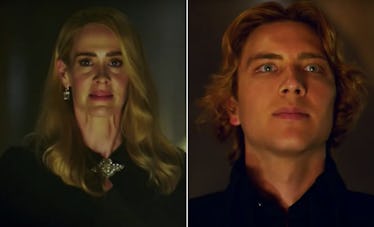 Next Week's 'AHS: Apocalypse' Will Explore All Your Questions About Witches & Warlocks
FX
American Horror Story: Apocalypse kicked things into high gear on Wednesday night's latest episode, and now fans cannot wait to see what happens next week. We finally got to see the Coven witches in action, with the added bonus of learning all about Michael Langdon's pre-apocalypse backstory, and the AHS: Apocalypse Episode 5 promo trailer teases that the next new episode will give us even more magical action.
Spoiler alert: This post will contain details from American Horror Story: Apocalypse Episode 4, "Could It Be... Satan?" After weeks of confusion, AHS: Apocalypse finally gave us some explanation on Michael Langdon in the season's fourth episode, which was predominantly set in a flashback to three years before nuclear bombs destroyed the earth. Surprisingly, teenage Michael was actually raised by a devil worshipper whom the robotic Miriam Mead was modeled after, rather than his grandmother Constance Langdon like most fans were assuming. As his demonic powers grew, a coven of warlocks take notice and bring Michael to their warlock school, which happens to be located in what will become Outpost 3. The warlocks believe that Michael could be the Alpha, a legendary warlock prophesied to be so powerful that he could supplant the Supreme, which is seen as an impossible feat since male warlocks have always had inferior powers to female witches.
After Michael displays his strong but chaotic powers, the warlocks call in Cordelia Goode, asking her to administer the Seven Wonders test to him, which sounds like it would be the first time a warlock would be given the ultimate magical test. Cordelia refuses, causing Michael to prove his power to her by doing what she never could: saving the fallen members of her coven. Michael has no problem pulling Queenie out of the Hotel Cortez, and then brings Madison Montgomery out of her retail-store hell as well. When Michael shows Cordelia that he was able to save her girls when she never could, the Supreme faints.
And next week's episode will be all about Cordelia's response to Michael's shocking display of power. Although Episode 5 is called "Boy Wonder," the teaser for the new episode is all about Cordelia. She informs all the witches and warlocks that she had a vision of the apocalyptic future, in which she is nearly eaten by nuclear zombies, and declares that it all depends on what she does next. Check out the teaser trailer for yourself below:
Although we only hear from Cordelia Goode in this teaser, the episode title makes it clear that Michael Langdon will once again be at the center of Episode 5, which looks like it will also be primarily set in the pre-apocalyptic timeline. Of course, we don't know what will happen in "Boy Wonder" yet, but it certainly sounds like we might see Cordelia cave to the warlocks and agree to administer the Seven Wonders test to Michael. If Michael can successfully perform the Seven Wonders, then he would gain all the powers of a Supreme, proving himself to be the Alpha and more powerful than any witch or warlock.
American Horror Story: Apocalypse Episode 5, "Boy Wonder," will air on FX on Wednesday, Oct. 10 at 10 p.m. ET.