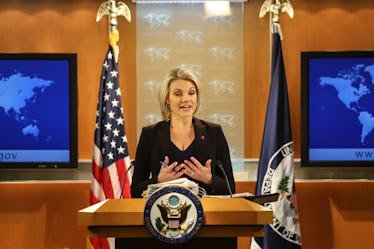 Donald Trump's New U.N. Ambassador Pick Has Some Interesting Qualifications
Alex Wroblewski/Getty Images News/Getty Images
The revolving door that is the Trump administration payroll has just made another turn, and this time it's bringing someone in. Everyone welcome Heather Nauert, who is Trump's pick for U.N. ambassador. He reportedly announced the news in front of reporters at the White House on Friday, Dec. 7. Elite Daily reached out to the White House for further comment regarding Nauert's nomination, but did not hear back by the time of publication.
For starters, it's worth pointing out that Nauert, 48, isn't exactly a conventional pick, as she lacks the foreign policy experience that is typically seen in the role. Before taking on a gig in the State Department in 2017, she reportedly worked as a host for Fox News, including as an anchor for Fox & Friends, a show frequently watched by President Trump. According to CNN, her limited experience could result in a tough confirmation hearing in the Senate, where she will likely face tough questions from Democrats on her qualifications for the position.
Nevertheless, her candidacy has reportedly been approved by Secretary of State Mike Pompeo, of whom she's apparently a close ally, per CNBC. President Trump also appears to be all-in. On Friday, he praised the work Nauert did at the State Department, telling reporters she had done "a great job," per CNN. He also raved about her personality, adding, "She's very talented, very smart, very quick, and I think she's going to be respected by all."
In a excited tweet shared later on Dec. 7, he announced the news of Nauert's nomination again and congratulated her on being selected.
Though she might not have the qualifications previously seen in the role, on Thursday, Dec. 6, Bloomberg reported that White House aides believe her communication skills and understanding of the Trump White House could be beneficial. Sources also told the outlet that Trump was impressed with Nauert's performance a the G20 summit last week, which could have factored into his decision to nominate her.
It's all certainly good news for Nauert, especially considering all the other fierce candidates who were in the race for the post. Some of those reportedly included former U.S. Senate candidate John James, Richard Grenell, the U.S. ambassador to Germany and former U.S. spokesperson at the U.N., and Goldman Sachs executive Dina Powell, who previously served as both a top economic adviser to President Donald Trump, as well as a deputy national security adviser during most of his first year in office.
Now that he's tapped Nauert for the post, she'll be replacing Nikki Haley, who announced her resignation as U.N. ambassador on Oct. 9. Trump said the decision stemmed from Haley's desire to "take a little time off," after spending two years in the role. She was selected to the post shorty after Trump was elected to office in 2016 and also lacked foreign policy experience, but she had served as governor of South Carolina, so that's something.
We'll see how the confirmation process goes for Nauert. For now, here's wishing her congratulations and good luck moving forward.