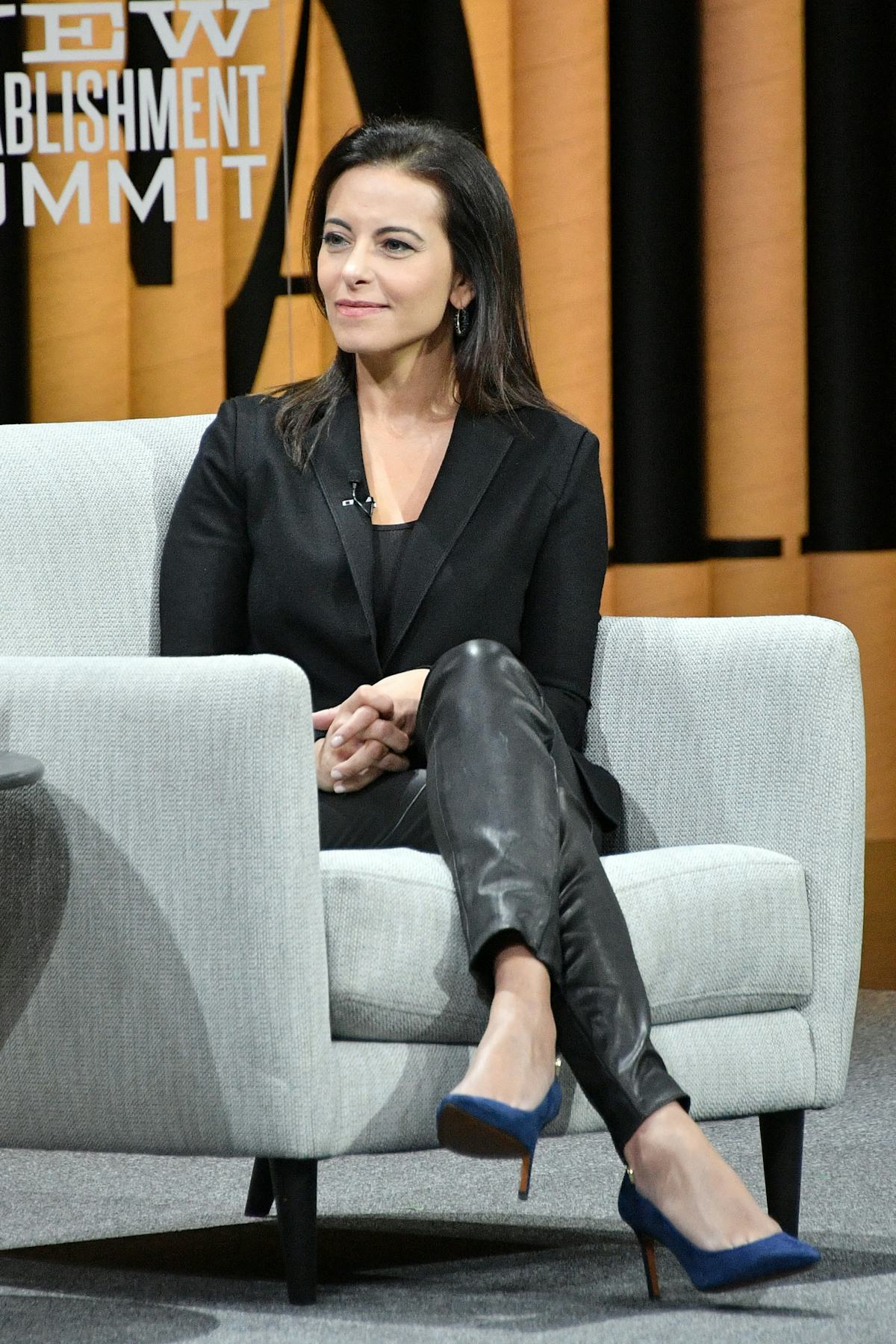 Here's The Woman Who Might Replace Nikki Haley As U.N. Ambassador
Mike Windle/Getty Images Entertainment/Getty Images
Nikki Haley's sudden and surprising resignation from her post as U.S. ambassador to the United Nations on Oct. 9 has the world collectively questioning who her replacement will be. While several administration officials have been mentioned as potential successors, the one everyone seems to be talking about is Dina Powell. Reports say Powell, who worked closely with President Donald Trump regarding foreign affairs in the past, is the leading contender for the role, and now everyone is looking for more information on the possible replacement. So who exactly is Dina Powell? Let's get you up to speed.
Powell served as both a top economic adviser to President Donald Trump, as well as a deputy national security adviser during most of his first year in office. According to CBS News, she was instrumental in crafting Trump's Middle East policy, particularly in strengthening ties with Saudi Arabia, and was responsible for planning many of his foreign trips, including his first visit to the United Nations General Assembly in September 2017. Though she only served in his administration for under a year before deciding to return to Goldman Sachs in early 2018, multiple reports say that she left on good terms.
"She is certainly a person I would consider. She is under consideration," Trump revealed to reporters outside the White House on Tuesday, Oct. 9. According to CNBC, Trump also announced that he is considering four other candidates, but did not list their names. A representative for the White House told Elite Daily by email on Oct. 9 that they had no announcements about a potential replacement for Haley at that time, and did not immediately reply to questions about Powell specifically.
There was speculation that first daughter Ivanka Trump could take over the post, as Haley praised her during her resignation announcement on Oct. 9. Speaking before reporters in the Oval Office, Haley referred to Ivanka as a "great friend" and praised Ivanka and her husband, Jared Kushner, for doing a lot of work "behind the scenes." Ivanka then followed up with a seemingly telling tweet, raving about Haley and their relationship. The tweet read:
Ambassador Haley has served America with dignity + distinction. She is a bold reformer and has been an unwavering champion of truth, principled realism and integrity within the United Nations. Jared and I are grateful for her friendship — a true blessing in our lives!
Later Tuesday afternoon, President Trump further fueled the rumors of Ivanka taking over the post, telling reporters he thought his daughter would be "incredible" and "dynamite" in the role. However, he also conceded that if he chose her, he'd "be accused of nepotism." Shortly after, Ivanka ruled herself out as a successor, writing on Twitter: "I know that the President will nominate a formidable replacement for Ambassador Haley. That replacement will not be me."
Elite Daily reached out to the White House at the time for additional comment on whether Ivanka might replace Haley, but did not receive a reply.
Haley is set to depart from her role at the end of the year, when she will have served in the post for two years. In the surprise announcement, she only offered up a vague explanation, suggesting that she was simply ready for a break. "I'm a believer in term limits. I think you have to be selfless enough to know when you step aside and allow someone else to do the job," Haley explained.
While she seems ready to move on to new endeavors, President Trump said that if Haley is ever open to rejoining his administration, she could have "pick" of posts. "We're all happy for you in one way, but we hate to lose — hopefully you'll be coming back at some point but in a different capacity. You can have your pick," Trump explained, per CNN.
So that's always an option, in case these new considerations don't work out, 'eh?