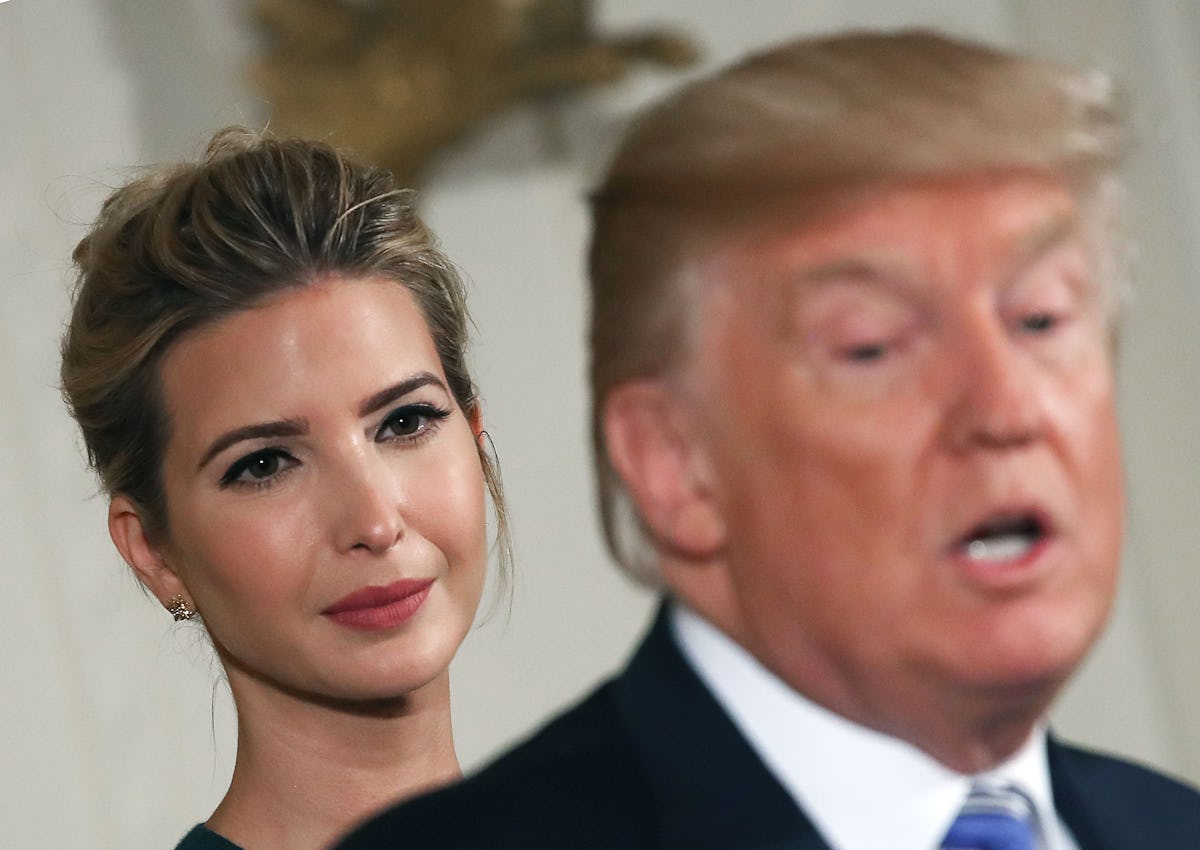 Donald Trump Thinks Ivanka Would Be An "Incredible" U.N. Ambassador, Of Course
Mark Wilson/Getty Images News/Getty Images
On Oct. 9, U.S. Ambassador to the United Nations Nikki Haley announced that she would be stepping down from her role at the end of the year. It was a surprising turn of events, particularly considering that Haley seemed to be working well within the turbulent Trump administration. So of course, everyone's minds quickly turned to who might replace her — and a lot of people's minds went in the same direction. So, will Ivanka Trump be appointed U.N. ambassador? Well, her dad President Donald Trump sure seems to like the idea, and he's the one whose opinion counts.
In the press conference from the Oval Office where Haley announced her resignation on Oct. 9, President Trump initially said that he would announce his nominee for Haley's replacement in two to three weeks. He praised Haley, saying she had done an amazing job and turned the role into one that many people would want. However, he didn't mention any names, which of course didn't stop people from speculating, particularly after Haley herself took the opportunity to praise the first daughter. "Ivanka has been just such a great friend," she said during the announcement, adding that Ivanka and her husband Jared Kushner "do a lot of things behind the scenes" that she wished more people knew about.
Later that day, Trump himself weighed in on who should replace Haley. When asked by reporters who he was considering, he seemed to like the idea of an Ambassador Ivanka. "I've heard a lot of names. I've heard Ivanka. How good would Ivanka be?" he asked rhetorically. "I think Ivanka would be incredible," he continued, noting that his praise of his daughter didn't mean he would pick her. A representative of the White House told Elite Daily by email on Oct. 9 that there were no announcements regarding a replacement for Haley at the time, and did not respond to questions regarding Ivanka Trump.
However great her father thinks it would be, Ivanka herself seemed eager to put an end to the speculation. After her father's statement, the first daughter put out a tweet saying she would not be taking over the role of U.N. ambassador. "It is an honor to serve in the White House alongside so many great colleagues and I know that the President will nominate a formidable replacement for Ambassador Haley," she wrote. "That replacement will not be me."
It seems pretty clear. Then again, she also said in January 2017 she wouldn't serve in her father's administration at all, and look how that turned out. (She announced in March of that same year she would take an unpaid role as an adviser to the president, with an office in the West Wing of the White House.)
Trump also acknowledged that appointing his daughter would likely come in for accusations of nepotism, a suggestion that isn't unfounded, either. Although Ivanka frequently meets with world leaders and sits on international panels on issues of interest to her, she's also received major pushback on instances where she attempted to take on a more formal governmental role. For example, back at the G20 summit in 2017, Ivanka saw a flurry of criticism after she took over her father's seat during a meeting of heads of state. Normally, if a head of state has to step away during the meeting (hey, even presidents have to use the bathroom), the seat would be occupied by a high-level aide or official. Many people on Twitter were furious that Ivanka, who has not been elected to public office, was representing the U.S. on the world stage, even temporarily.
Of course, even if Trump wasn't worried about the nepotistic look of the whole thing, he might not be allowed to send Ivanka to the U.N. even if he wanted. Under the Federal Anti-Nepotism Statute, public officials may not "appoint, employ, promote, advance, or advocate for appointment, employment, promotion, or advancement" a relative to any agency which he or she oversees or controls. (There is, as BallotPedia points out, debate about whether this applies to the president appointing staff to the White House.)
So what will happen? Whoever Trump picks as his nominee, the new ambassador will have to be approved and confirmed by the Senate before stepping into their new role. For now I'm just wondering, can those $50,000 curtains in the U.N. ambassador's residence even be ordered in millennial pink?