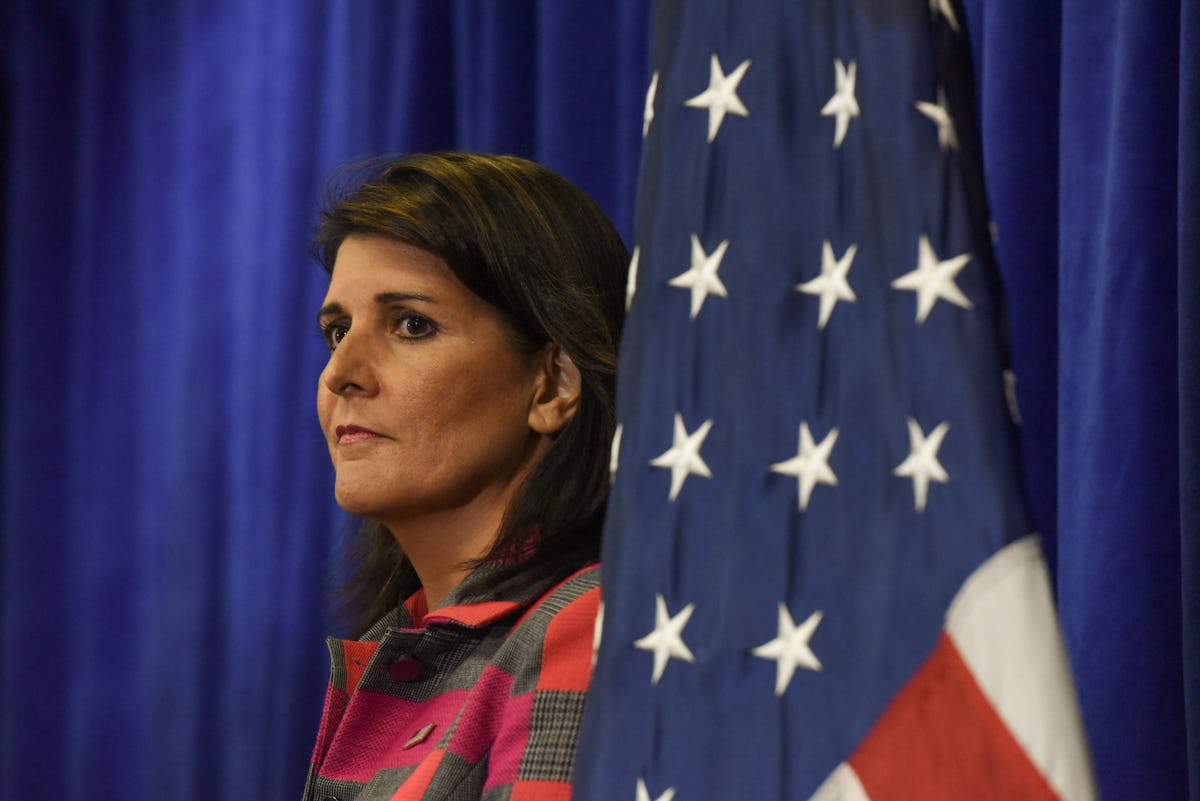 Nikki Haley Is Resigning As UN Ambassador, Which Is A Big Deal
Stephanie Keith/Getty Images News/Getty Images
Pour one out for this high-level U.S. official, because U.N. Ambassador Nikki Haley announced her resignation on Tuesday, Oct. 9. At an appearance with Haley in the White House Oval Office on Tuesday, President Donald Trump announced that the ambassador would be stepping down at the end of the year in order to "take a little time off." Haley will have served two years in the role, a pretty long stretch of time in an administration known for its high staff turnover.
Speaking from the Oval Office with Haley by his side, Trump praised the ambassador's work. "She's done a fantastic job, and we've done a fantastic job together," the president said, citing the United States' changed relationship with North Korea. "We hate to lose — hopefully you'll be coming back at some point. Maybe a different capacity. You can have your pick." He added that she had told him about six months previously that she intended to serve two years before stepping down. The president did not say who will replace Haley in the role, but said that "many people" would want to take over the role. He said that he would name a successor within the next "two or three weeks."
Haley, in turn, called her role as ambassador to the United Nations the "honor of a lifetime."
Haley's departure is a pretty big deal, as she's currently one of the few Cabinet-level women serving in the Trump administration. As Ambassador to the United Nations, Haley has also been seen as a more stable figure in an administration that frequently shakes up norms when it comes to foreign policy. In her role, Haley was at the center of major policy issues, such her April 2017 declaration that the United States was willing to respond to North Korean missile tests with military force. She also announced the United States' withdrawal from the U.N. Council on Human Rights in June 2018, citing what she called the council's "disproportionate focus" on resolutions against Israel.
Haley's departure is also significant in another way, as she's one of the diminishing number of Trump appointees who have been with him since the start of his term in January 2017. Haley's resignation is just the latest departure from the tumultuous Trump administration, which has seen a pretty startling rate of turnover. Including Haley, as of October 2018, there have been 24 high-level members of the administration who have either been fired or resigned, including former Secretary of State Rex Tillerson (fired); White House Communications Director Hope Hicks (resigned); Secretary of Health and Human Services Tom Price (resigned), and more. However, Haley's resignation stands out for both her length of time served and the apparent amicability of the departure. While many of Trump's appointees left amid scandal or conflict with the president, Haley's resignation was announced with mutual praise from her and Trump.
Haley, the daughter of immigrants from India, has been seen as a rising star of the Republican party who was unusually visible on the world stage as the U.N. Ambassador. Prior to taking on the role of ambassador, Haley served as governor of South Carolina, a role which she left to join the Trump administration. But despite her high profile, Haley denied that she would run for president in 2020, as some have speculated. "I am not running in 2020," she said in the Oval Office on Oct. 9. Instead, she said, she plans to campaign for Trump's re-election.
So what's next for the soon-to-be-former ambassador? I guess we'll have to wait until 2020 (or 2024) and see.