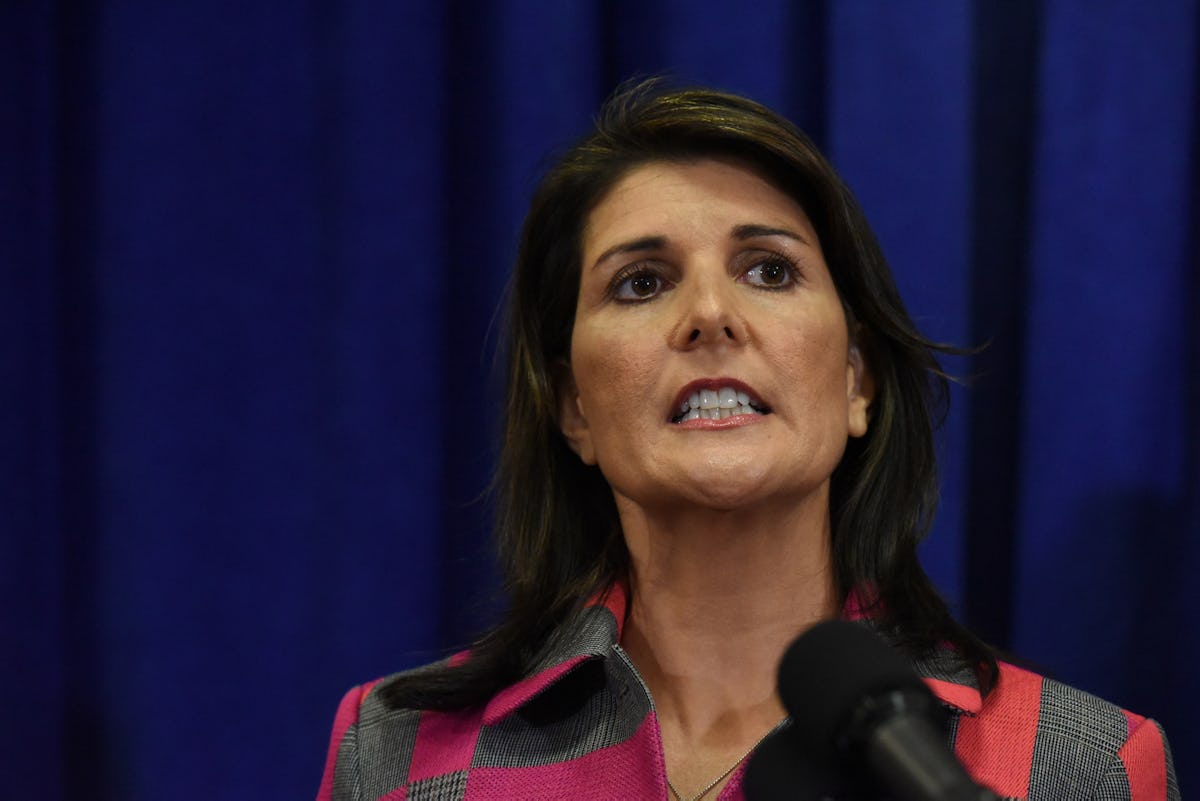 Nikki Haley's Reason For Resigning As U.N. Ambassador Has Some People Wondering
Stephanie Keith/Getty Images News/Getty Images
Topping the political radar on Tuesday, Oct. 9 seems to be the news of United Nations ambassador Nikki Haley's unexpected resignation from her post. Her resignation seemingly came out of nowhere, and is subsequently fueling a number of questions, including: why did Nikki Haley resign as U.N. ambassador? Although she offered up an explanation for her departure, her vague comments have people talking even more.
Speaking before reporters at the White House on Tuesday morning, Haley suggested that she was simply ready for a break and perhaps ready for new endeavors. She explained, according to Vox: "I'm a believer in term limits. I think you have to be selfless enough to know when you step aside and allow someone else to do the job." Haley is set to leave the role at the end of the year, when she will have served as U.N. ambassador for two years.
But the surprise announcement, coupled with the vague explanation regarding her departure, only fueled speculation that Haley, the former South Carolina governor, might be preparing for a 2020 presidential run. She, however, shot down the possibility in the briefing and said she would campaign for Trump instead, telling reporters "No, I am not running for 2020."
Still, the speculation of a potential presidential run is pouring in online.
President Donald Trump appears to be just fine with Haley's resignation, though, and she said at the same announcement that she would be campaigning for his reelection in 2020. According to CNN, Trump told reporters that Haley has "been very special to [him]" and praised her as "somebody that gets it."
"She's done a fantastic job and we've done a fantastic job together. We've solved a lot of problems and we're in the process of solving a lot of problems," Trump explained.
At the moment, it's unclear who will replace Haley. While the president said he intends on naming a successor to the post at the United Nations in two to three weeks, rumors are already circulating that his daughter, Ivanka Trump might take over the role. According to Newsweek, during the sit-down in the Oval Office on Tuesday, Haley called the first daughter a "great friend" and praised Ivanka and her husband, Jared Kushner, for doing a lot of work "behind the scenes." Ivanka followed up with a tweet expressing her appreciation for her relationship with Haley, writing:
Ambassador Haley has served America with dignity + distinction. She is a bold reformer and has been an unwavering champion of truth, principled realism and integrity within the United Nations. Jared and I are grateful for her friendship — a true blessing in our lives!
There's also speculation that Dina Powell, Trump's former deputy national security adviser, could be selected as Haley's replacement. Newsweek notes that Powell has often served as his right-hand during his meetings with foreign leaders, and planned his foreign trips, including his first visit to the United Nations General Assembly in September 2017. Following the news of Haley's departure, CNN's Kate Bolduan tweeted out a message saying a "source with knowledge" told her that Powell is one of Trump's considerations for the post. Hmm...
A representative of the White House told Elite Daily by email on Oct. 9 that they had no announcements regarding possible replacements for Haley.
Looks like we'll have to wait and see about who might step in. In the meantime, best of luck to Haley and her future.