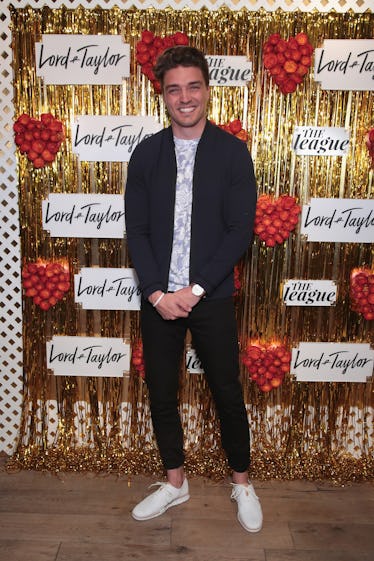 Dean Has A New GF After 'Bachelor Winter Games' & He's "Incredibly Happy"
Cindy Ord/Getty Images Entertainment/Getty Images
If you're a loyal member of Bachelor Nation, you probably remember that last season's Bachelor in Paradise basically gave way to what we now jokingly dub "The Summer of Dean." The Bachelorette cast-off from Rachel Lindsay's season was arguably the most talked-about cast member on the 2017 installment, considering he was in the controversial center of a dramatic love triangle. But it appears that Deanie Baby has moved on from all that. Who is Dean dating after The Bachelor Winter Games? He's apparently got a new girlfriend, and she just happens to be a Bachelor alum as well.
You may recall Lesley Murphy from Sean Lowe's Season 17 of The Bachelor. The bubbly blonde travel journalist actually got pretty far — she took a fifth place spot and was eliminated in the seventh week. Lesley has steered clear of any franchise spin-offs until now (she was a bridesmaid in Lowe and Catherine Giudici's wedding, through!), as she'll be competing on the upcoming Bachelor Winter Games this month. Obviously the decision to participate in the series proved to be successful in the love department, because she and Dean clearly hit it off and developed a relationship. And according to Dean's recent comments to Us Weekly, he's "incredibly happy" these days. Score one for reality romance!
Dean's been keeping busy in the Bachelor-verse, appearing on The Bachelorette, then Paradise, and now the Winter Games. When he's not vying for a rose on national TV, he's hosting his podcast, "Help! I Suck at Dating." Lesley manages a travel blog appropriately titled The Road Les Traveled where she documents her gorgeous getaways and offers up travel and lifestyle tips. The Arkansas native discussed her journalistic journey in her website's About page, writing,
After living and working abroad for a year, I had what I needed to start a blog: knowledge, passion and a topic. This site reveals my crazy adventures around the world and getting lost in the culture of the people – seeing how they move, what they eat and how they make a living. The idea is that the locals will inspire me, and then it'll be a chain reaction from there. I try to put is all on paper for my followers to read and be inspired to see the same places I just explored. I like to think I can make a difference one destination at a time.
"I like someone that is adventurous. Someone that has a lot of personality. Someone that can help make decisions for me because I'm incredibly indecisive," Dean also told Us. Lesley obviously has passion for adventure and incredible wanderlust, so it sounds like she's checking some of those boxes.
Dean had Bachelor Nation buzzing last year when his behavior on Paradise didn't exactly boost his dating reputation. After becoming a bonafide fan fave on The Bachelorette, the 26-year-old went on to strike up a romance with Kristina Schulman in Mexico. Enter Danielle Lombard, who showed up in Paradise and caught Dean's eye despite the bond he and Schulman shared. This triggered a messy love triangle that resulted in Kristina's choice to depart, after she felt disrespected by Dean and his indecisive, two-timing ways. The drama continued to extend to After Paradise and beyond, but it appears that Dean has grown from his public mistakes.
"I had a bad experience on Bachelor in Paradise, but I learned a lot over that experience so it was nice to be able to go on with a new perspective and really be able to focus on how to improve and not be as much of a s—thead as I was the first time around," he stated.
Dean may have a "Help! I Suck at Dating" podcast, but he's got to be getting the hang of it on some level now that he's no longer single. Perhaps we'll see more of his budding romance with Lesley when The Bachelor Winter Games premieres on Feb. 13.