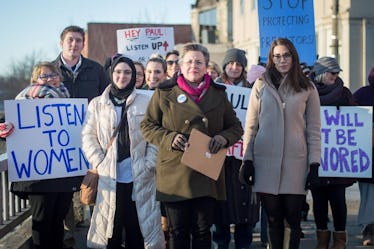 Meet Paul Ryan's Only Female Challenger In The 2018 Midterm Election — EXCLUSIVE
Cathy Myers For Congress
The scene opens on a short-haired woman with glasses unlocking a classroom, bundled up in winter clothes. Joined by a chorus of diverse women, she stares into the camera and says, "We will not be ignored." The 55-year-old looks like she means business. She may not be alone in the larger battle for women's equality, but eight months into her campaign, Cathy Myers is the only woman in the running for representative of Wisconsin's First Congressional District in the 2018 midterm elections. And in doing so, she's looking to unseat one of the nation's top Republicans: Speaker of the House Paul Ryan.
I have female friends who have run for office — amazing women, competent, smart — who've been told to wait their turn. Basically sit down, shut up.
It's clear who Myers is speaking to: women who, like herself, feel they've been written off and left out of the conversation. She certainly isn't alone in her decision to take politics into her own hands. This year, women are running for office at record-breaking rates; as of February, at least 431 women were declared or likely to declare their run for U.S. House. Myers is one of a handful of women taking on some of Washington's most powerful men.
Myers' run is a big deal.
Myers announced she was running in June 2017. Betsy DeVos' confirmation as Secretary of Education was the final straw for Myers, who's been a high school teacher for 24 years. But it was the Women's March on Washington, highlighting the gender gap in politics, that was the tipping point. "It seems to me that we're forgetting a significant part of this population and their voices are not being heard," she tells me in an interview for Elite Daily.
For Myers, a U.S. House seat would be a step up from her current role as vice president of the Janesville School Board, to which she was elected in 2013 and reelected in 2016. She's also been a union member for 23 years, serving as officer, vice president, and president.
If elected, Myers would join Representative Gwen Moore as the second Wisconsin woman currently serving in the House. But it doesn't mean the campaign trail is easy for candidates like her. "I have female friends who have run for office — amazing women, competent, smart — who've been told to wait their turn. Basically sit down, shut up," she says, though it's hard to imagine anyone telling that to no-nonsense Myers, who grew up working at her father's truck stop on I-80 and rides a 2004 Harley Dyna Low Rider.
And this race is a big one. Ryan's term is up in 2019, meaning Wisconsin's First Congressional District is on the ballot this November, and he's denied rumors that he won't seek reelection. On the Republican side, Ryan will face off against challengers Paul Nehlen and Nick Polce. (If you're wondering why Nehlen sounds familiar, it may be because he recently made headlines for posting a racist tweet about Meghan Markle and Prince Harry.)
In the Democratic primary, Myers' competitor is Randy Bryce, a 52-year-old iron worker who goes by the nickname "Iron 'Stache." Bryce gained overnight fame that has all but drowned out Myers. Despite a political track record that includes three lost elections, Bryce has been racking up political backing and celebrity endorsements and donations. Bryce (or his campaign ad) has gotten airtime on Sarah Silverman's I Love You, America, The Last Word With Lawrence O'Donnell, The View, CNN Tonight and three times on AM Joy with Joy Reid.
Myers, for her part, has been backed by the American Women's Party.
Bryce came out of the gates substantially ahead of Myers, money-wise. Lauren Hitt, a spokesperson for Bryce's campaign, says in an email to Elite Daily that the campaign raised $2.6 million by the end of 2017, and another $1.5 million in the first two months of 2018. In the last quarter of 2017, The Cap Times reports, Myers brought in $187,000, and the "We Will Not Be Ignored" video, published on Feb. 20, brought in $280,000 in just one week, per a Feb. 27 tweet. According to a spokesperson for her campaign, the fundraising total is $580,000, as of publication.
Still, neither she nor Bryce has anywhere close to the kind of cash Ryan has; per the Center for Responsive Politics, he raised $10 million with another $9 million in cash on hand.
There's a tense rivalry in the Democratic primary.
"I got into this thinking that we would have a sincere and authentic primary, and I have felt kind of held back, denied, as far as the primary race is concerned," Myers tells me. "So much attention has been focused on my primary opponent."
Last fall, Bryce backed out of a debate with Myers. According to Forward Kenosha, one of the forum's hosts, both Myers and Bryce said they were willing to debate in the future and rescheduled the event for April. The move came as a shock to Myers. "I expected to be ignored by Paul Ryan, but not by my primary opponent," she says. "This is not just about me, it's about my voters. This is one of the most important races in the country this year and they deserve a debate. They deserve a discussion about our values, they need to know our experiences, they need to know what our plans are."
Hitt says that decision was due in part to a redistricting case that could redraw the voter map. "Randy has said that he intends to debate whoever is on the ballot in June," she adds. (The two candidates appeared at a forum on Feb. 8 to answer voters' questions separately, though not to debate.)
Meanwhile, in a December 2017 VICE article, reporter David J. Dent wrote that "Bryce's strategy is to ignore Myers" as he focuses on Ryan. Also in that article, Bryce's aides compared Myers to Nehlen and Polce as "rivals who simply aren't on his level." Myers responded by demanding an apology for the comparison to Nehlen, who has been labeled as a white nationalist. ("[Bryce] also said that he views any Democrat running to defeat Paul Ryan as an ally," Hitt tells Elite Daily about the VICE characterization, "and that he doesn't want to speak negatively about any of his primary challengers, since that only helps Ryan succeed." Hitt adds that the comparison made to VICE was "referring to small dollar contributions raised.")
Debates aside, the focus on Bryce, by both the media and the party, hasn't been lost on Myers. Referring to the establishment — including donors, press, and the Democratic Congressional Campaign Committee — she says, "I kind of feel as though they've taken a less qualified candidate to push him just because he's male."
Some who backed her opponent have even encouraged her to back out of the race entirely. "I have gotten pushback from people that say, 'We already have a candidate, Cathy, why don't you run for something else?'" she says. The people who've said this have mostly been men, she notes. "The women seem to get it."
Myers's absence from the conversation around Wisconsin's high-profile election is not without consequence. "I didn't even know that Randy Bryce had a primary challenger until today," wrote one user in a Feb. 24 tweet. "Where is the national coverage for Cathy Myers?"
I ask Myers whether she thinks the campaign landscape would look any differently if she were a man. "Yeah, I do," she says. "I think that women are regularly told to wait their turn. I feel as though we're not taken as seriously as we should."
"Let's put it this way," she explains. "If a man was a 24-year union member, and president and vice president of his union, I believe there would be a different conversation going on right now in this primary."
Despite a chasm between her and Bryce, Myers is picking up momentum.
"I really feel like I'm going to win this primary, I really do," Myers says with audible cheer in her voice. "If I don't, I will be Randy's biggest supporter; I will help him out." But she's not betting on that outcome.
"We're seeing a ton of momentum and we're really satisfied by that," she says, adding that she's gaining female support in particular nationwide. But if her message is speaking to women, they're far from her only fans. Her donor breakdown, she estimates, is 60/40 women to men.
In the meantime, it's full steam ahead for Myers until August. She's been busy campaigning while teaching, and has made some 20,000 calls personally, she says. Her staff includes just two people — one of them a woman she met at the Women's Convention, a conference put on by the Women's March organizers in Detroit last October.
One thing she's hoping for before then? "Fingers crossed, a debate or two," she says with a laugh. And she's not waiting around for action. On Thursday, Feb. 22, she challenged Bryce to six debates, one in each county in the congressional district.
Even if she doesn't win, Myers thinks that putting herself out there in itself— the only woman in the race going up against Ryan — is already a success.
"I just hope that more and more women decide to run for office and I think that that's already happening," she says, "We need to challenge things."
Editor's note: This piece has been updated to note that Bryce's aides compared Myers to Polce in addition to Nehlen in the December 2017 VICE article. A further clarification to the comparison made to VICE was also added.