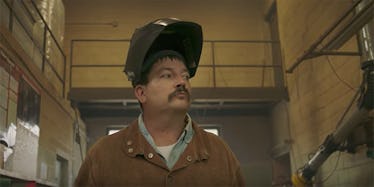 You Need To See This Breathtaking Ad For The Man Running Against Paul Ryan
YouTube/Randy Bryce for Congress
An iron worker with little name recognition is making big news, all thanks to one breathtaking ad.
The purpose of the ad was to announce the candidacy of Randy Bryce, a U.S. Army veteran and a native of southeast Wisconsin, who intends to challenge Speaker Paul Ryan for the state's first Congressional District seat during the 2018 midterm elections.
The video has been shared thousands of times over, thanks, in part, to it being posted by former Hillary Clinton staffer Tim Hogan.
Safe to say, people were blown away by Bryce's promo.
The combination of the quality of Bryce's production and the congressional hopeful's moniker (he goes by "@IronStache" on Twitter) has helped the challenger gain notoriety on the social network.
By his own count, Bryce gained over 25,000 followers, literally overnight. All the while, he earned plaudits from a number of media members and celebrities.
Who is Randy Bryce?
Randy Bryce is community activist and political coordinator for his iron workers union, the Associated Press says. He's also been described by The Hill as a former Bernie Sanders surrogate.
Bryce will run with the help of Bill Hyers, a former campaign staffer under former President Barack Obama, the Wall Street Journal reports. The challenger hopes to win by tying Speaker Ryan to Donald Trump's presidency.
Bryce told the Journal,
They're handcuffed together. People are having buyer's remorse and they're seeing what's going on. Trump made a lot of promises that I can see why working people would support, but now they're waking up.
Bryce faces a tall task, however.
Since entering Congress in 1998, Paul Ryan has only received less than 60 percent of a general election vote on just one occasion, per The Hill.
Simply put, "WI-01" is a red district, and only time will tell if Bryce can generate enough excitement at the polls as he can with a video.