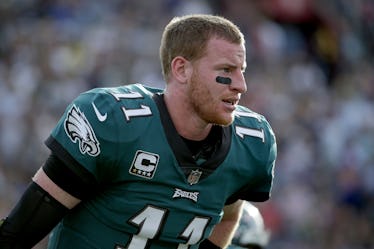 Carson Wentz's Girlfriend Is His High School Sweetheart & It's Seriously The Cutest
Jeff Gross/Getty Images Sport/Getty Images
I did a lot of things by the age of 24. I learned how to make ramen noodles in a microwave. I learned how to use dry shampoo. I learned how to separate my whites and darks in the laundry. (Hey, I never said I did it, I just said I learned how to do it.) Carson Wentz learned what it feels like to lead his professional football team to the Super Bowl. All eyes are on the super young Philadelphia Eagle's quarterback, and he certainly has my attention. Excuse me, but does anyone know who Carson Wentz is dating?
Why yes, the internet does.
UPDATE: Carson Wentz is no longer dating his high school sweetheart. In fact, he's engaged to another woman named Maddie, who he got engaged to after his SBLII win in February.
EARLIER: You might think Wentz takes after his celebrity competitor, Tom Brady, and is shacking up with a supermodel or famous actress. Or, maybe you think he's playing the field (HAHA) and enjoying life as a single person. In reality, he's dating his amazing high school sweetheart named Melissa Uhrich, and I am here for that. It seems like she's a totally lovely and normal human, which I love. (Hear that, professional athletes? There's no rule that says you HAVE to date a Kardashian!)
The two went to high school together in North Dakota and are still going strong. The New York Post reported that despite their happy relationship, Uhrich often catches Wentz distracted by football. In fact, she's caught him watching game footage under the table during dinner dates.
Alas, I imagine that's part of what comes with being or dating a professional athlete.
Even though Wentz is an incredible quarterback, he still considers himself a simple guy. NBC Sports asked him if there is more to him besides hunting and throwing a football. Wentz responded, "That's pretty much all there is to it. I'm pretty simple."
He added,
I feel like what I am and who I am is kind of out there. I do like being low-key, I do like being private, for the most part. I think this business, this world that I've come into, is really cool, but it can be a lot sometimes and sometimes it's just nice to go home and be chill and be away from everything. But it's cool at the same time.
Based on Wentz's tweet about Uhrich and their dog, Henley, this all seems to check out. Wentz posted a gorgeous photo of his girlfriend and pup by a lake. He wrote, "Two of my favorites, just missing mama Henley!"
He added a heart-eyed emoji.
It's clear Wentz is a softy at heart. He also told NBC Sports that one of his favorite parts about being in the NFL is when he gets to talk to young fans. He said,
I definitely do enjoy it. There are perks of it. Honestly, seeing kids and stuff? That part's really cool. Seeing how excited they can get.
But, if you think fame is going to change him, think again. Wentz says his real goal is to keep a work/life balance and enjoy his life.
The things I like about North Dakota, that's who I am. I'm not going to let the culture I live in and where I live kind of change me. I'm just going to keep being me...
...Like the hunting and all that stuff, I'm fortunate enough that I can do that out in New Jersey. I can kind of get that peace of mind to get away from the game. It's kind of just who I am and what I'm about. Not going to let where I live and the circumstances change that.
Let's see if winning the Super Bowl changes him or not. Tune in to the game on Sunday, Feb. 4 to cheer Wentz on. (You know, if the Eagles are your team or whatever.)
Check out the entire Gen Why series and other videos on Facebook and the Bustle app across Apple TV, Roku, and Amazon Fire TV.