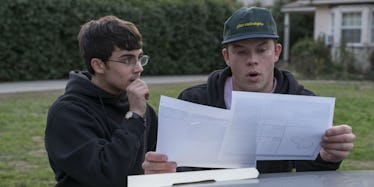 The 'American Vandal' Team Revealed Who Drew The D*cks & It's Who You Thought
Netflix
It is finally time that we officially clear Dylan Maxwell's name. When American Vandal premiered, it centered around one unexpectedly complex question: Who drew the d*cks? As the mockumentary continued, it seemed like we were finally going to get the answer to that question in the end, only to reach the last moments of the season without a culprit. Well, wonder no more, because the creators of American Vandal confirmed who drew the d*cks during a panel at Vulture Festival over the weekend. And yeah — it's exactly who you thought it was.
As fans will recall, American Vandal ended without conclusively solving its central mystery, although it did give us a really, really convincing suspect. However, without enough evidence to prove anything beyond a shadow of a doubt, documentarian Peter Maldonado ends his investigation without an answer to who drew the d*cks, but instead reframes the purpose of his movie as an insight into the stereotypes that led the school administrators and his peers to so quickly and decisively place the blame on resident troublemaker Dylan Maxwell. Although the ending never really gave us the culprit, it did make a very compelling case that the person behind the crime was Christa Carlyle, the member-of-every-club student activist played by G. Hannelius. And now showrunner Dan Lagana is finally confirming that it totally was Christa who drew the d*cks. In fact, he said that he thought they made that pretty obvious on the show, and didn't understand why there has been so much confusion about it.
We feel like we told you exactly who did it, and then just had Peter have a moral compass at the end, saying, "If I didn't have hard evidence, me definitively saying who did it on camera in my doc would make me no better than the school system — but I have my theory!" It's like, that's his theory! That's who did it!
The show's creators Dan Perrault and Tony Yacenda along with stars Tyler Alvarez and Jimmy Tantro were on hand to echo Lagana's sentiments, and confirm that the American Vandal finale actually did reveal the true culprit of the series, even though she wasn't brought to justice.
Honestly, the American Vandal finale did make it pretty obvious that Christa Carlyle was the d*ck-drawer, and pretty much everyone who finished the series came out of it with Christa as their main suspect. Plus, eagle-eyed fans noticed a bunch of tiny clues that made it even more obvious, like Christa's cast switching legs and the fact that her boyfriend's name was clearly a play on the word "vandal."
Even though everyone was already pretty sure that Christa was the real vandal at the center of the first season, it is nice to have it officially confirmed now, especially since we are leaving the d*ck-drawing mystery of Season 1 behind as the team enters into their second season. Last month, the show's production company, Funny Or Die, confirmed that American Vandal will be coming back for Season 2 sometime in 2018, and the new season will very likely shift focus to a brand new crime. This also means that Christa, Dylan, and most of the rest of the cast of Season 1 will probably not be part of the new mystery — per teases from the showrunners and star Tyler Alvarez, pretty much only investigators Peter and Sam will return to try to get to the bottom of a new mystery.
Season 2 of American Vandal will hit Netflix sometime in 2018. Until then, fans can now officially lay those fan theories to rest, with the confirmation that it was totally Christa.