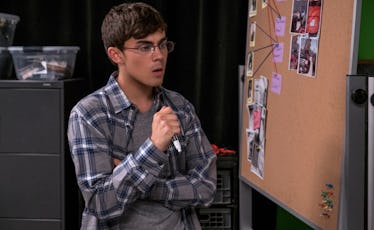 Peter From 'American Vandal' Lets Us Know What Could Happen In A Season 2 – EXCLUSIVE
Netflix
We got one of the most unexpected TV hits of the year a couple weeks ago when a true crime mockumentary about graffitied d*cks managed to totally captivate pretty much everyone with a Netflix account. Though its concept sounded pretty ridiculous at first (and, of course, it purposely is), American Vandal surprised viewers by evolving into a complex mystery that turned out to be just as gripping as the true crime documentaries it was spoofing. But now that Season 1 is over, will there be an American Vandal Season 2? Elite Daily caught up with star Tyler Alvarez, who plays the show's lead investigator Peter Maldonado, about his ideas for how the show can continue into a second season... possibly as an anthology series.
During my chat with Alvarez, he mentioned that he was "so excited" at the prospect of working on a second season of American Vandal, and shared some thoughts on what direction a possible new season could go in. I brought up the idea of American Vandal following in the structural footsteps of shows like American Horror Story and Fargo by becoming an anthology series, and Alvarez admitted "that's what we're going towards." He said that he thinks a new season would focus on his character Peter and sidekick Sam (Griffin Gluck) investigating a brand new unsolved crime.
Artistically, I want it to be a completely new, different crime, and that's what we're going towards: It would be Peter and Sam making a new documentary about something else. It would be an anthology in that, you know, it would be a new crime every season, a new journey.
Although Alvarez did say that on a personal level, he hopes to work with the same cast as the first season, he admitted that artistically, a drastic leap to an entirely new mystery would be a more invigorating. He teased that there are so many aspects of true crime documentaries that American Vandal hasn't gotten to touch on in its first season, and he hopes that if they are given a second season, they can go in a whole different direction.
Tyler Alvarez's sentiments seem to echo those of showrunners Dan Perrault and Tony Yacenda as well. The co-creators told Entertainment Weekly they also want a potential second season to tackle a new trope in true crime they didn't cover in Season 1, and that it would also continue to follow from Peter and Sam's perspective as documentarians.
Judging from the fan response to the show, I would guess we're going to be seeing more of American Vandal soon enough. The Netflix series still hasn't been picked up for another season just yet, but it was a critical smash for the streaming service — the first season currently holds an impressive 96 percent on Rotten Tomatoes.
And with a second season looking very likely, Tyler Alvarez probably won't have to say goodbye to his character of Peter Maldonado just yet... although it sounds like Alvarez couldn't get rid of Peter if he tried. The actor admitted he pretty much became his meticulous, investigative character off-screen as well while filming American Vandal. Alvarez became just as wrapped up in solving the mystery of who drew the d*cks as Peter was, even writing around 40 of his own interview questions for each character in the show, and setting up his own suspect wall in his bedroom.
When I had only gotten the first script, I was in my room in New York and I had this whole massive wall similar to what we had in the TV studio whiteboard. I had a whole wall and I was trying to piece it together on my own, like I wanted to try to figure it out without the rest of the scripts.
Alvarez has to put his sleuthing skills on ice for the moment, but hopefully they'll be back out in due time if American Vandal gets a second season order from Netflix. Until then, Season 1 is currently streaming on the service.