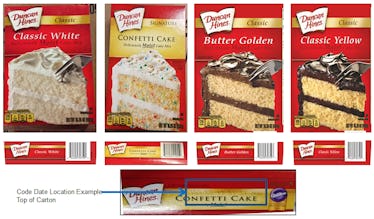 Heads Up: Your Favorite Confetti Cake Mix Is Being Recalled, So Check Your Cabinet
When you think of confetti cake, what comes to mind? For me, it's balloons, presents, pure joy, and a Lion King themed birthday party where I once ate so much confetti cake that it almost (almost) became confetti cake soup. What I'm trying to say is, a boxed mix of Duncan Hines confetti cake is basically the epitome of childhood nostalgia. Unfortunately, though, I have some not so great news to tell you: Four of Duncan Hines' cake mixes are being recalled, so if you have any of the boxes tucked away in your pantry right now, you might want to check and see if they're one of the four varieties being pulled from the shelves. Elite Daily has reached out to Duncan Hines for comment on the recall, but did not hear back by time of publication.
On Monday, Nov. 5, the U.S. Food and Drug Administration (FDA) announced that four Duncan Hines cake mixes — including the varieties Classic White Cake, Classic Yellow Cake, Classic Butter Golden Cake, and Signature Confetti Cake — have been recalled, as they "may be linked to a Salmonella outbreak that is currently being investigated by CDC and FDA," which is a hard truth to swallow for cake lovers, both literally and figuratively.
According to the FDA's announcement, Conagra Brands, which owns Duncan Hines, is currently looking into the issue with health officials, but it's important to note that "it has not been definitively concluded that this product is linked to the [salmonella] outbreak and the investigation is still ongoing," as per the agency's statement. Still, "out of an abundance of caution," the announcement states, Conagra has pulled the four cake mix varieties in question off of grocery store shelves for the time being.
So, if you were planning to break out a box of confetti cake to celebrate Democrats flipping the House of Representatives following the 2018 midterm election, or even just to celebrate, you know, making it through another week of work, just make sure you check which cake mix varieties you have in your pantry, as well as the dates on them.
According to the FDA announcement on the recall, when looking at the four cake mix varieties in question, be sure to check for the sell-by dates — specifically, these dates: Mar. 7, 2019, Mar. 8, 2019, Mar. 9., 2019, Mar. 10, 2019, Mar. 12, 2019, and Mar. 13, 2019. Here's how to know where to check for the sell-by date, courtesy of the FDA:
BTW, in case you want a little background on why a potential salmonella contamination is kind of a big deal, the Mayo Clinic defines a salmonella infection as "a common bacterial disease that affects the intestinal tract." And while the medical center says that "most healthy people" recover from the infection within a few days without any specific kinds of treatment, the symptoms can be pretty brutal, including "diarrhea, fever and abdominal cramps within eight to 72 hours" of eating a contaminated food.
The only potentially major issue with salmonella, as per the Mayo Clinic, is if the infection spreads beyond the intestines, at which point the medical center says the infection may become life-threatening, especially in vulnerable people like little kids and the elderly.
To make sure you steer clear of a salmonella infection, always "cook food thoroughly and refrigerate or freeze food promptly," the Mayo Clinic explains. Additionally, in terms of the Duncan Hines recall specifically, the FDA announcement states:
Several of the individuals reported consuming a cake mix at some point prior to becoming ill, and some may have also consumed these products raw and not baked. Consumers are reminded not to consume any raw batter. Cake mixes and batter can be made with ingredients such as eggs or flour which can carry risks of bacteria that are rendered harmless by baking, frying or boiling. Consumers are reminded to wash their hands, work surfaces, and utensils thoroughly after contact with raw batter products, to follow baking instructions, and to never eat raw batter.
I know that raw cake batter is delicious, my friends, but I'm not sure it's worth being doubled over in pain and stuck in the bathroom all day. You're better safe than sorry, y'all.