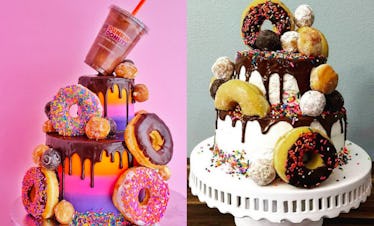 These Colorful AF Dunkin' Donuts Cakes Are The Most Instagram-Worthy Sweets
Caked Up Cafe/Instagram/Dat Cake Dough/Instagram
When it comes to coffee on-the-go, there is nowhere I'd rather go than Dunkin' Donuts. The coffee-and-doughnut chain has iced coffee, hot java, and plenty of sweet, sweet doughnuts to go right along with it. Even though I consider Dunkin' to be the perfect spot for everyday coffee and breakfast needs, there is a new way for DD fans to make Dunkin' a part of even their most special celebrations. Yep, people are making the most Instagram-worthy Dunkin' Donuts-inspired cakes, and you have to see them. TBH, these Dunkin' Donuts cakes are almost too pretty to eat.
OK, these cake creations truly are spectacular-looking, but I would still have no trouble at all cutting into these beauties for a delectable slice. Plus, doughnuts are heavily featured in the designs, of course, so you can get an extra side of something sweet when you opt for a Dunkin'-inspired cake. Personally, I have a hard time when it comes to making a decision for what kind of cake to have on birthdays or big celebrations. Usually, I wind up asking for funfetti, because I want a little color and fun for a special day. Seeing the gorgeous color combinations featured in the Dunkin' cakes, I think the funfetti box is going to stay in the cupboard when birthday rolls around in May.
I mean, just look at all of these very worthy options.