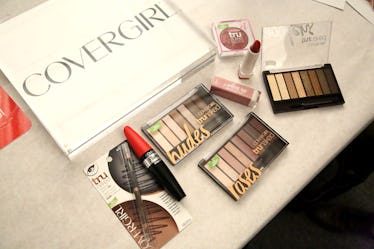 CoverGirl Is Opening Its First Flagship Store, So Prepare To Kiss Your Paycheck Goodbye
Astrid Stawiarz/Getty Images Entertainment/Getty Images
The first time I tried on makeup, I was probably about 14 or 15 years old. Of course, I had no idea what I was doing at the time, but I was so amazed that my handy tube of CoverGirl mascara was able to make my virgin lashes pop. It goes without saying that, from that moment on, I was hooked. Since then, I've continued to use and love the brand's products, which are not only affordable, but have always been widely available at most drugstores and other retailers. And now, the cosmetics giant is taking things a step further this fall 2018 by launching CoverGirl's new flagship store in New York's Times Square.
Not only will all of their products be available in one place, but according to a press release, the iconic retailer is making history as "the first mass legacy beauty brand to launch a flagship store in North America." This is going to be big — literally.
The outside display alone will incorporate over 5,000 square feet of digital LEDs. And on the inside, shoppers will have over 10,000 square feet of space, as well as multiple floors for them to explore and play around in. The shop will feature a totally interactive beauty playroom, makeup application and on-the-go services, tons of digital interactions and experiences, merchandise you won't be able to find anywhere, and a few other surprises they have yet to reveal.
CoverGirl's vision for the store is to replicate the vibrant energy that comes along with Times Square, and they hope this flagship store will inspire customers to express themselves freely and openly using its makeup — something the brand's philosophy, "I am what I make up," encourages daily.
"It is our mission to show up for people wherever they are on their beauty journey, and offer them innovation and experiences that inspire them to become whatever version of themselves they want to be in the moment," Ukonwa Ojo, senior vice president at CoverGirl, said via a press release. "At CoverGirl, we believe that makeup is a powerful tool for creativity and self-expression. Opening a concept store will help bring this brand purpose to life in an immersive, elevated, and multidimensional way."
Given the brand's recent launches, it seems like they're sticking hard to this line of thought. In May, the company released their latest foundation line, TruBlend Matte Made Foundation, which offered 40 tones for the insanely affordable price of $10 a pop. This is a huge step in the right direction to ensure that makeup lovers everywhere get to find their shades without having to spend a fortune, as they would if they went for higher-priced lines.
Most recently, CoverGirl launched its Exhibitionist Lipstick collection, which includes almost 50 colors, from the traditional reds, pinks, and nudes to even more expressive colors like purples and blues. There is definitely a shade for everyone.
But it was in 2016 when CoverGirl, who historically only marketed their products to women, took a huge step toward blurring the lines of gender norms when they revealed viral makeup artist James Charles would be the first boy to be the face of the brand. This choice lent itself to the fact that makeup is for everyone, regardless of biological sex or gender.
At the end of the day, makeup can be many things. It can be something to play with, something you use to cover up that zit, or something to make your best feature stand out. But all in all, it is a true form of expression. And it's refreshing to see major brands like CoverGirl creating spaces for people to explore their products in a location as lively as Times Square, all while not having to break the bank. Also, being able to test out the products before purchasing is something to really look forward to, since that typically doesn't happen when you're buying from a drugstore.
Let's hope other legacy brands will follow suit!