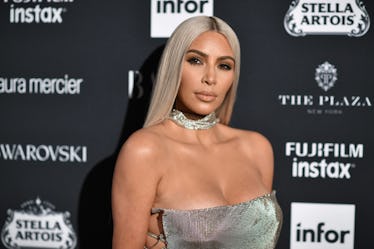 Here's What Kim Kardashian Was Doing When Everyone Thought Kylie Was In Labor
Dimitrios Kambouris/Getty Images Entertainment/Getty Images
I cannot, for the life of me, keep up with the Kardashians — see what I did there? No, but seriously. Between Kim's pregnancy, Khloe's pregnancy, and Kylie's reported pregnancy, it's all too much for my head. My confusion has not been helped by the constant rumors, including the recent rumor that Kylie was in labor. Now that we know it wasn't real, we're all probably wondering where the rest of the family was as they were reading (or totally ignoring) our frantic tweets. So where was Kim Kardashian during Kylie Jenner's labor rumors? Ironically, the social media mogul was celebrating a friend's birthday.
On Jan. 12, rumors spread that Kylie had checked into Cedars-Sinai hospital in Los Angeles and was in labor. Needless to say, fans everywhere had a collective freakout moment. Those who were able to remain calm took to the rest of the Kardashian-Jenners' social media pages to look for any hints that might confirm Kylie was giving birth. Unfortunately, they didn't find much.
According to People, while the rest of us were glued to our computers and phones trying to find literally any clues, Kim was out with Kanye celebrating her "legit BFF" Allison Statter's birthday. Kim posted photos from the celebration on her Instagram story, including an adorable pic of a smiling Kanye. Clearly, she was totally unfazed by the labor rumors, which were later put to rest by TMZ, who confirmed with sources close to the family that Kylie was not in labor.
Let's backtrack for a second. In September, People confirmed that the youngest Kardashian-Jenner sibling was expecting a child with her boyfriend, Travis Scott. However, Kylie has yet to comment publicly on the matter. But let's be real, here: We don't need confirmation from the Kardashians themselves when something major is happening. We live for the drama when it comes to their family, and it's only heightened when they're being hush-hush.
Some fans pointed to a Snapchat posted by Scott as "proof" that Kylie was in labor. The photo featured the inside on an airplane and the caption, "Make it home to ya one way or another." However, the Snap turned out to be from December 2017, and served as further evidence that the labor speculation was just that — speculation.
It's easy to see why fans are so on edge about Kylie's pregnancy. The 20-year-old makeup guru and Instagram star hasn't posted on the platform since Christmas, leaving everyone to wonder what she's up to. Her last tweet was on Dec. 19, 2017.
The labor rumors spun out of control on Jan. 12, with some fans even suggesting that they knew Kylie's baby's name. Screenshots of a text conversation between two friends (which we now know was fake) began circulating on Twitter. One friend claimed that their sister worked in the hospital Kylie was checked into (psh) and that the baby had been named Storm, which fans quickly latched onto and transitioned to Stormie (you know, like Northie).
Even though I'm a little salty about the rumors not being true — whoever started them, I WILL find you — it was pretty funny to see everyone freaking out. Twitter nearly exploded when the rumors began to spread, and everyone put on quite a show. Honestly, is there anything more fun than a tweet frenzy?
It seems like we're really just gonna have to wait to hear the news about Kylie's baby from the Kardashians themselves. If anyone tries to pull this with Kim's baby, though, I really might lose it.
Check out the entire Gen Why series and other videos on Facebook and the Bustle app across Apple TV, Roku, and Amazon Fire TV.00:0003:06