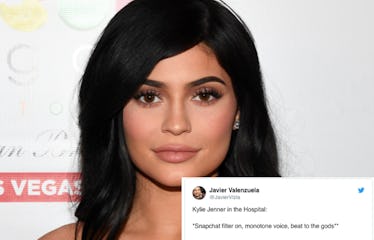 People Think Kylie Jenner's In Labor & Their Tweets Are Hilarious
Getty/Twitter
Guys, there's so many rumors surrounding Kylie Jenner that I can barely keep up at this point. (See what I did there?) Back in September, reports first surfaced that Kylie Jenner was expecting her first child with her boyfriend, Travis Scott. Now, though those rumors have never been confirmed, there's a rumor on top of the rumor that Kylie Jenner is in labor. Elite Daily reached out to Kylie Jenner's team for confirmation of the rumors on Twitter, but did not hear back by time of publication. However, TMZ has reported that the rumor is definitely not true. Twitter took this rumor and ran, though, and now we have some hilarious tweets to keep us occupied while we wait for the news as to whether Jenner is actually giving birth to a child at the moment. These tweets about Kylie Jenner in labor are the funniest things you'll read today.
On Friday, Jan. 12, reports first surfaced on Twitter that Jenner was reportedly at Cedar Sinai Medical Center in Los Angeles. From what we know about Jenner's reported pregnancy, she would be due around February. But, because we barely know anything, this could be totally wrong. Or, we could be REALLY wrong and Kylie Jenner isn't even pregnant. Who knows?! TMZ says while the rumors surfaced online, they have confirmed that Jenner is not in labor and is not due this month. She also hasn't gone into premature labor, the report says.
Jenner has been so secretive about her reported pregnancy, so it does make sense that if she was pregnant, we wouldn't know until she gave birth. A few months ago, a source told People,
Kylie is only trusting her closest friends and her sisters right now. She wants to reveal things on her own terms but she's, of course, having fun teasing everyone. She knows all the attention is on her and her baby bump, but she won't share until she wants to.
The source also shared,
Kylie wants to disappear and be out of the spotlight and focus on her health and happiness.
That won't stop fans and people on social media from making assumptions and dissecting every single piece of information for a clue about her pregnancy. And with the news of her reported labor, what else is there to do if you don't have any concrete information? Go on social media and cut the anticipation with some hilarious tweets.
Dead. I can't.
If Kylie Jenner is indeed pregnant and in labor, this won't be the only Kardashian-Jenner baby we get in 2018. Kim Kardashian has confirmed she's expecting her third child with Kanye West this year. Khloé Kardashian also confirmed her first pregnancy back in December with an emotional Instagram post.
She wrote in the caption,
My greatest dream realized! We are having a baby! I had been waiting and wondering but God had a plan all along. He knew what He was doing. I simply had to trust in Him and be patient. I still at times can't believe that our love created life! Tristan, thank you for loving me the way that you do! Thank you for treating me like a Queen! Thank you for making me feel beautiful at all stages! Tristan, most of all, Thank you for making me a MOMMY!!! You have made this experience even more magical than I could have envisioned! I will never forget how wonderful you've been to me during this time! Thank you for making me so happy my love! Thank you to everyone for the love and positive vibes! I know we've been keeping this quiet but we wanted to enjoy this between our family and close friends as long as we could privately. To enjoy our first precious moments just us ❤️ Thank you all for understanding. I am so thankful, excited, nervous, eager, overjoyed and scared all in one! But it's the best bundle of feelings I've ever felt in my life! ❤️❤️❤️
Well, if we still have no answer on Kylie Jenner or her possible baby, at least we can focus on these two Kardashian pregnancies, and these hilarious tweets.