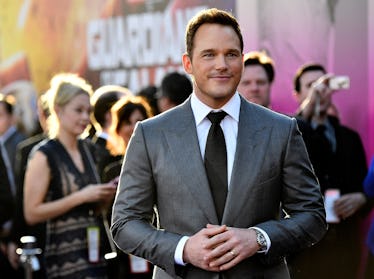 Chris Pratt Didn't Show Up To The Golden Globes & Fans Have So Many Questions
Frazer Harrison/Getty Images Entertainment/Getty Images
Have you guys met my boyfriend Chris Pratt? And by boyfriend, I mean a Hollywood celebrity who I love to pieces and only wish was my boyfriend. Let's be honest, the dude doesn't even know my name (unless he's reading this and clicks on my bio, making my dreams come true – Hi, Chris! Marry me?). The Guardians of the Galaxy and Jurassic World star is funny, down-to-earth, and clearly an incredible actor, and – now that he and Anna Faris are no longer together – seems pretty available. Now many people are wondering if Chris Pratt is at the Golden Globes, and, if he is, does he have a date?
Since his split with Faris in August, Chris Pratt has kept his personal life low-key, staying quiet on social media (a place where he's usually quite vocal AND quite funny). However, before his break with posting online, he issued a heartbreaking statement about their separation. He said,
Anna and I are sad to announce we are legally separating. We tried hard for a long time, and we're really disappointed. Our son has two parents who love him very much and for his sake we want to keep this situation as private as possible moving forward. We still have love for each other, will always cherish our time together and continue to have the deepest respect for one another.
The world basically cried a river that overflowed because it felt as though true love was dead. Seriously, Chris Pratt and Anna Faris were relationship goals, and people are STILL not over it:
See what I mean?
But in all honesty, the breakup WAS a lot to handle, so nobody blames anyone for having to go to therapy over this couple's split. It was a damn tragedy and nobody can deny that.
Now that time has passed, though, people are starting to wonder if Chris Pratt is single or not – and if he attended the Golden Globes, would he have a ~special someone~ on his arm?
Some expected that he might make an appearance with actress Olivia Munn, because the gossip mill was churning out some rumors that the pair were secretly dating. According to OK! Magazine, Pratt and Munn have a "genuine connection" and are giving things a shot. A source told the magazine,
It started as a convenient rebound but blossomed into something very real and exciting ... Chris and Olivia have a genuine connection… She and Chris really like each other. They both want to see where this goes.
Chris Pratt? Olivia Munn? Dating in SECRECY?
Not gunna lie, I am kind of loving this idea.
So, is Chris Pratt at the Golden Globes this year, even though he is not nominated for any awards?
Sadly, no, he isn't. (Insert crying emoji here.)
And, because there was no Chris Pratt sighting at the Golden Globes, we can't confirm whether or not he is single and ready to mingle or off the market just yet. Ugh.
Even though they're no longer together, why don't we just reflect back on when saw Chris Pratt with Anna Faris at previous Golden Globes awards, looking cute AF together? Because I think now is a good time to think about how fortunate we were in 2015 and didn't even know it:
Maybe we should all just take a moment of silence for the Couple That Could Have Been, because no matter what, Chris Pratt and Anna Faris will live in our hearts for eternity, no matter how many years have passed since they've split.
Did you hear me? No matter how many years.
True love knows no amount of time.