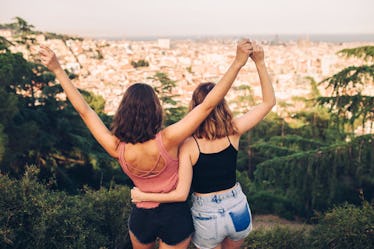 Where You Should Travel With Your Bestie In Summer 2019 For The Most Epic Escape Yet
As much as you love taking trips and seeing the world, you have to admit one thing: You haven't really thought about your summer 2019 travel plans. Instead, every morning when you roll out of bed, you glance over at your bucket list posted on your mirror and say to yourself, "I'll get there one day." I mean this in the nicest way possible: What are you waiting for? I can understand wanting to rack up extra funds before purchasing a plane ticket, but it seems like you're also looking for the stars to align. Let me give you some #inspo, and all the details on where to travel with your best friend in summer 2019.
You won't want to miss out on these epic vacays, because they look exactly like your daydreams. Imagine palm trees, Instagram-worthy plates of food, and afternoons spent on the beach. Fresh fruit smoothies and hiking trails that lead you to the most beautiful views of the sunset are also included. Of course, your BFF is there, too, because no adventure or excursion would be complete without them.
Your bestie is your go-to travel buddy and your biggest source of inspiration. They remind you that summer is the season of less worries, commitments, and responsibilities, and they text you messages like, "Let's go here," with links to one of these seven spots. They look so epic, and will make you realize that you have to go, like, now.