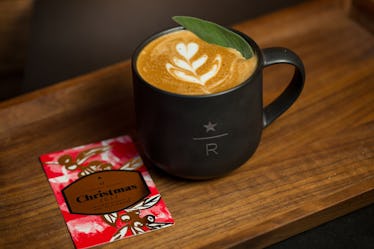 Starbucks' New Wintry Juniper Latte Is So Festive, But You Can Only Get It At These Stores
Starbucks
What's sweeter than a kiss under the mistletoe? New holiday treats, of course (just don't tell bae). If you're ready to embrace the season, here's where to get Starbucks' wintry Juniper Latte so you have something delicious to sip in between "All I Want for Christmas Is You" singing sessions.
For those lucky enough to live within striking distance of the Starbucks Reserve Roastery in Seattle — or Reserve bar stores in New York, Los Angeles, Chicago, San Francisco, Washington D.C., and Dallas — there's the option to indulge in one of these babies. This week, Starbucks unveiled the new menu item, and the Juniper Latte basically screams, "Merry Christmas." Its espresso base is accompanied by steamed milk infused with a syrup. But it's not just any syrup — it's one made with dried juniper berries, sage, and mandarin. Feliz Navidad, my friends.
Peppermint is so passé when you can have a winter fruitcake in liquid form. Everyone's going to be arriving at work with a Peppermint Mocha — and there's certainly nothing wrong with that — but don't you want to spice things up a little? The Juniper Latte is a perfect way to get a taste of Christmas with a flavor that's oftentimes overshadowed. You'd be starting a cool new trend (an Instagram-worthy one at that).
Of course, Twitter is tossed about this new drink.
If you're not ready to admit that it's sweater weather and it gets dark at 4 p.m., fear not. You can channel the summer months and still get a taste of Christmas in a cup thanks to the cold drink, the Juniper Affogato. According to HelloGiggles, it's also served at the Starbucks Reserve. Mora juniper iced cream is mixed with a shot of the Reserve Christmas espresso blend so you get the best of both worlds. Baby it's cold outside, but the Juniper Affogato is definitely worth a few sips, even if the temperature is in the single digits.
No matter your location, you can enjoy the new Toffee Almondmilk Hot Chocolate, which isn't limited to the roastery. Joining the ranks of Peppermint Hot Chocolate, Snickerdoodle Hot Chocolate, and Salted Caramel Hot Chocolate, this new Starbucks treat ups the coziness factor and will make you want to stay curled up in blankets on the couch. It sounds like the perfect excuse to participate in a Netflix binge, if you ask me.
The order starts off with steamed almondmilk that's mixed with mocha sauce and toffee nut syrup — a decadent must for the colder months. To put the finishing touch on what will be your new go-to order, the treat comes with whipped cream and Caramel Brulée topping (though I received chocolate shavings on top of mind, which isn't half bad, either). This is all you'll want for Christmas.
Fortunately, none of the tastes overwhelm one another, so the blend of Almondmilk, toffee, and chocolate works well. If you're OK with adding dairy, a whipped cream finish is the way to go. There's certainly no judgment if you order a Venti (next time I'll do the same — "tall" is for quitters).
You know it's officially the holidays once Starbucks rolls out its new drinks (and, unfortunately, once drama unfolds over the holiday cup's design). Now that you have these new, festive options, it's time to get cozy: Grab a book and a blanket or find a holiday movie on Netflix because these activities and sweets are calling your name. Did someone say Elf was going to be on?
Happy holidays, everyone. Enjoy your treats.
Check out the entire Gen Why series and other videos on Facebook and the Bustle app across Apple TV, Roku, and Amazon Fire TV.