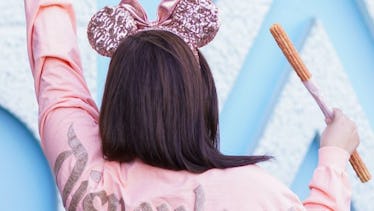 Disneyland Is Selling Rose Gold Churros & You Need To See How Pretty They Look
Disney
You have to admit that part of the fun of a Disneyland outing is indulging in all of the tasty theme park treats. The park always has the perfect bite for whatever snacking mood you might be in, and the latest Disneyland offering is both delicious and coated in a trendy metallic hue. Once you find out where to get rose gold churros in Disneyland, you'll be well on your way to getting all the likes as soon as you post a photo of the gorgeous snack.
Now, I am basically a Disneyland novice, so I'm not really sure where anything is located in the Anaheim, California theme park. But the prospect of treating myself to a beautiful rose gold churro makes me want to get my hands on a Disneyland map, like, right now. Thankfully, The Daily Meal reported that once you get to Disneyland, the rose gold churros are easily found for purchase right outside of Sleeping Beauty's Castle at the Castle Churro Cart, of course.
So, what will you get when you snack on this chic-looking rose gold churro? The strawberry-flavored churro is dusted with just the right amount of sparkle that comes from the delicate pink and gold edible glitter. I didn't think you could improve an already delicious churro, but Disneyland's glammed-up version sounds delightful.
Not only is the rose gold churro perfect for a midday Disneyland snack, but it is also a great addition to your Instagram grid or Snapchat Story. Filter or no filter, a photo of your rose gold churro is bound to have all of your followers double-tap as they scroll by it.
Don't get too used to this shimmery snack, though, because the rose gold churro was introduced right before Valentine's Day, and it is only expected to be available at Disneyland for the next two months.
Hopefully, you get to Disneyland in time to fulfill all of your rose gold churro dreams — but if you happen to miss out on this particular sparkly incarnation of the churro, there is a good chance that Disneyland is cooking up a new version of the dessert. Based on their past churro offerings, Disneyland appears to enjoy mixing it up. Back in the fall of 2017, Disneyland kept it seasonal with pumpkin churros, and once the holidays rolled around, peppermint candy cane churros were the treat du jour.
If you are in desperate need of a rose gold Disney fix, though, you can get it with a pair of rose gold Minnie Mouse ears or a rose gold Disney spirit jersey. The Disney rose gold spirit jersey is currently sold out online, but you might be able to snag it in person during your Disneyland adventure. Don't give up hope if you can't get your hands on the must-have Disney rose gold apparel right away. Take a cue from Disney and turn toward the sky, because, "When you wish upon a star, your dreams come true."
OK, I can't personally guarantee all star wishes come true, but it can't hurt to try, right?
If location is what's keeping you from getting your Disneyland day trip on the calendar, then maybe Disney World is more easily accessible for you. The magical theme park in Orlando, Florida just announced some pretty exciting news, too. Toy Story Land is set to open at Disney's Hollywood Studios in Walt Disney World in Orlando, Florida on June 30, 2018. So, if you're more into checking out "infinity and beyond," then Disney World is where you want to be this summer.
Of course, there's no rule that says you can't go to both theme parks to try all the churros and ride all the rides, but I recommend trekking to Disneyland first so you can check that rose gold churro off your Disney dessert bucket list.