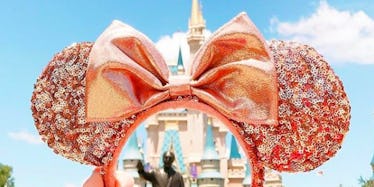 These Rose Gold Minnie Mouse Ears Are Gorgeous And We'd Wear Them Every Day
It seems like Disney aficionados would do just about anything to nab a pair of specialty mouse ears. These mouse ears typically come in a wide range of styles and color options but there is a new style taking social media by storm. Rose gold Minnie Mouse ears are officially a thing and they're perfectly Instagrammable.
These rose gold Minnie Mouse ears are as cute as they are practical, covered in rose gold sequin and topped with a beautiful metallic bow. Are you interested in buying a pair? According to Disney's style blog, these beautiful Minnie Mouse ears are available for purchase at Walt Disney World in Florida and at the Disneyland Resort in California.
Before Disney decided to create their own rose gold Minnie Ears, you could find specialty shops on Etsy and on social media selling DIY versions. But now, you can find them while you're at the parks, and they will definitely help to bring up your Instagram game.
Needless to say, the few people who've gotten their hands on the coveted ears are raving about them on social media. And those who still don't have them have taken to Twitter to share their frustration.
"Disney Parks are finally giving the people what they want-- Rose gold ears!!"
"You guys!! Rose gold sequin ears have arrived!!!"
"SOS!!! is anyone going to Disneyland soon and wouldn't mind copping me these rose gold Minnie ears!!!"
"Just here to say that Disneyland now has rose gold Minnie ears and if I don't go soon and get some I will probably cry."
"First thing I'm buying in Disneyland are the rose gold Minnie mouse ears if they have them...I NEED THEM."
"Disney released new Rose Gold Minnie Ears and I'm SCREAMING."
"Wanna go back to Disneyland just for the Rose Gold Minnie ears."
OK, I'm not even that into Disney and I think I need a pair now. I also think Disney released these beautiful ears to make us feel better after they decided to take all of their movies off of Netflix. Just saying!