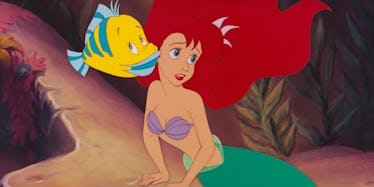 Nooo! Disney Movies Are Leaving Netflix, So Cancel Your Sing-A-Long Plans
Disney
Say it ain't so! If you've been waiting to rewatch Moana for the umpteenth time, better get on it: Disney movies are leaving Netflix, Disney announced in its latest earnings report. And not just Disney movies: the company said that they would be pulling both Disney and Pixar titles from the popular streaming platform as of 2019, CNBC reported on Aug. 8. Don't leave us, Aladdin!
Disney CEO Bob Iger told CNBC that the two companies had a "good relationship," but that Disney was exercising a contract option to remove its content in order to create its own branded streaming platform.
So, good news! The movies won't be gone from streaming altogether.
Disney's still-unnamed streaming service is planned to launch in 2019, and the titles will be offered there instead. What's more, all upcoming post-2019 Disney and Pixar productions — like Toy Story 4 and the live-action Lion King — will be found exclusively on the new Disney platform, which will also include shows from The Disney Channel, Disney Jr., and Disney XD, according to The New York Times.
There's no news yet on how much the Disney-branded service will cost, sadly. But if you can't stomach the thought of subscribing to yet another streaming platform, you've got time: Disney and Pixar movies will continue to be available on Netflix through the end of 2018.
Still. Netflix will be losing everything: classic Disney, Pixar films, our excuses for not having plans on a Friday night. Tragic. What am I supposed to do now, actually go out and spend time with people?
There is a ray of light, however: Marvel-branded shows and movies might remain where they are.
Disney owns those brands too, but isn't sure if they'll be moving. Which means that if you got hooked on Jessica Jones, Daredevil, or Luke Cage, you're good for now. The same applies to the Star Wars properties, Iger told The Times, citing different fan bases.
Silver linings!
The streaming platform which will host the films is actually only one of two that Disney is putting together. The House of Mouse is also launching a separate sports streaming platform for programming from ESPN, which is expected to arrive in early 2018.
With a company as big as Disney, it was really only a matter of time before they got on the streaming bandwagon. So I guess it's just the circle of life, here to move us all/our faves to a different platform.