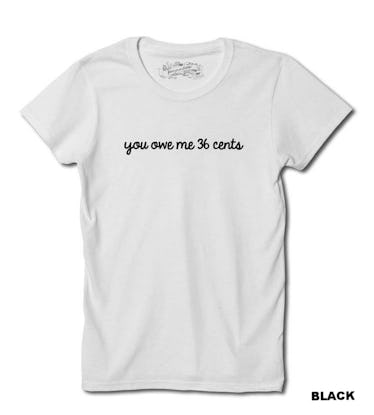 The Cutest, Cleverest Women's March Merch That Actually Gives Back To The Cause
Femininitees
Hell hath no fury like a woman whose rights are being threatened. The 2018 women's march is happening tomorrow, and whether or not you're able to protest, find out where to buy Women's March Merchandise so you can support the cause even when you're not marching or chanting. And because I'd never leave you wanting more, also check out the clever Women's March sign ideas for inspo.
It's hard to believe that it's been almost a year since the 2017 Women's March, but Jan. 20, 2018 will be the second installment of the protest, and it's more important than ever to show your support. The movement has come to represent a broad scope of issues such as women's reproductive rights, equal pay, same sex marriage, an end to sexual harassment, and equality for everyone regardless of gender, sexual orientation, race, ethnicity, or any other "label." So much is at stake, but that doesn't mean you can't care about your style at the same time.
I wore my favorite "Girls Just Wanna Have Fun...damental Human Rights" sweatshirt to the Women's March on Washington last year, and every time I pull it over my head, I remember how I stood up for myself and women everywhere that day. In the past year, an immeasurable amount of feminist-themed merchandise has arose, and while repping your cause in any way is great, purchasing from brands that give back is paramount. Many companies donate all or some of their Women's March merchandise proceeds to the cause, so your support will mean even than snagging a pithy "Cats Against Cat-calling" T-shirt. Plus, when you buy feminist fashion merch, you can wear it long after the Women's March.
Women's March Official VOTE Tote
($30; womensmarch.com)
The theme of the 2018 Women's March is Power to the Polls, and you can show your dedication to voting with this Women's March tote. It's made by the official Women's March organization so all proceeds from this and all of the other available merchandise go directly to the cause.
Planned Parenthood ISWPP Baseball Capp
($18; plannedparenthood.org)
This is a more year-round friendly version of the pink knit pussyhats. I'll proudly be wearing mine on Saturday and to the beach all summer long. This hat is made and sold by Planned Parenthood and all proceeds go to the non-profit organization.
Everlane The Human Woman Unisex French Terry Sweatshirt
($50; everlane.com)
Stay warm while you smash the patriarchy with this to-the-point sweatshirt. Everlane donates $5 for each item sold from their 100% Human Collection to the American Civil Liberties Union (ACLU).
The Frankie Shop Pussy Power T-Shirt
($40; thefrankieshop.com)
This Pussy Power shirt is a groovy way to show your support for women. It's made in the US (in New York City), designed by Brianna Lance, and all sales from the shirt go to Planned Parenthood.
My Sister We Are A Choir Tank
($38; mysister.org)
Actress Amber Tamblyn teamed with My Sister to create the #ChoirUp collection which "encourages women to believe other women, and to raise their own voices to speak out against assault, misogyny and exploitation." A quarter of the proceeds from each item in this collection go to GEMS: Girls Education & Mentoring Services.
Femininitees Wage Gap Tee
($34; femininitees.com)
This graphic tee addresses the wage gap between men and women of different races. Select which race you wish to represent and the shirt is customized with the appropriate number. Better yet, Femininitees donates a portion of the proceeds to the National Organization for Women.
The Outrage Pride Pin
($13; theoutrage.com)
Brighten up your local Women's March with this rainbow pride pin that benefits the Human Rights Campaign.
ACLU Camo Socks
($15; aclu.org)
It can't get easier to show your support than with a pair of cozy, colorful socks. These ACLU pink and blue camouflage socks celebrate that people of all race, gender, and sexual orientation are able to serve in the United States Military.
Otherwild The Future Is Female T-Shirt
($30; otherwild.com)
This slogan has really taken off and is printed on countless shirts, mugs, etc., but Otherwild is the brand who first brought the shirt back to life. The brand donates 25 percent of their proceeds to Planned Parenthood.
If you're able, snag your new merch and then get outside on Jan. 20, 2018 —just find your local Women's March here.