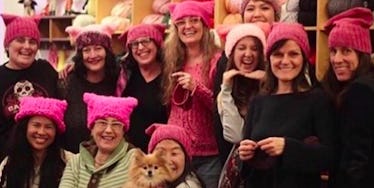 Why I'll Be Proudly Wearing A "Pussyhat" When I March On Washington This Saturday
Instagram
Feminism.
Your reaction to that word - and your interpretation of it, whatever it is - is probably very, very different to someone you walked past in the street yesterday.
To some, the word easily translates as "the overall hatred of men." To others, it is the belief that women deserve to be treated equally to men.
I developed an affinity for the word from an early age, and as I grew up, my enthusiasm didn't waver. If anything, it was only amplified.
And that is why I'm choosing to march alongside my fellow feminists on Saturday January 21, and stand up for the rights I as a female and human being am entitled to.
Naturally, as a fashion lover, I was soon wondering how I could show my support for the cause.
That is how I came across the pussyhat.
Launched over Thanksgiving weekend, and created by friends Krista Suh and Jayna Zweiman, the pussyhat is an accessory which is as powerful and symbolic as it is adorable.
Featuring cat ears and knitted from hot pink yarn, the hats are a subtle way to pack a serious political punch. Plus, it's a cute way to show support for women's rights.
Krista said,
Honestly, I would have stripped naked for it if that would have been impactful.
The LA screenwriter, who was planning to march on Washington, decided to make a hat to keep warm and send a message - and just like that, the pussyhat was invented.
But Krista didn't just knit herself a hat. After realizing the greater effect the hats would have if more people chose to wear them, she decided to create more.
After all, strength comes from numbers, right?
She quickly got to work, recruiting friends, family and anyone who was willing to dedicate their time to the project.
She said,
We could all wear them and make a unified statement.
The team has produced more than 60,000 hats, having caught the attention of women of all ages - from teenagers to those in their nineties.
But with success often comes criticism, and Krista and Jayna have undergone a great deal of it throughout the process.
Holly Derr, a writer and director who worked on The Vagina Monologues, said,
I feel like we're missing the point a little bit by making this into something cutesy. I totally understand the desire to make a strong visual statement, but I think that many women marching together is already a strong visual statement.
Andi Zeisler, author of We Were Feminists Once and co-founder of Bitch Media, criticized "a feminist movement that makes cheery accessories into its visual symbol," adding,
I do feel like this is the time for getting scary. We need to go full witch. We need to really scare some folks. I do worry that as a physical optic, mass pink pussycat hats might not have the effect that something darker and scarier and more urgent might have.
The key thing to remember is why Krista and Jayna have chosen to do this. If you visit the official page of The Women's March, you will find this message,
We stand together in solidarity with our partners and children for the protection of our rights, our safety, our health, and our families - recognizing that our vibrant and diverse communities are the strength of our country.
This is the sole purpose driving this entire event.
It's no secret feminism gets a bad rep. Everywhere you look, someone is referring to it as something completely wrong.
Feminism isn't a practice geared to hate men, it's something entirely different.
It represents equality, which, regardless of your gender, race or nationality, is a term everyone can understand.