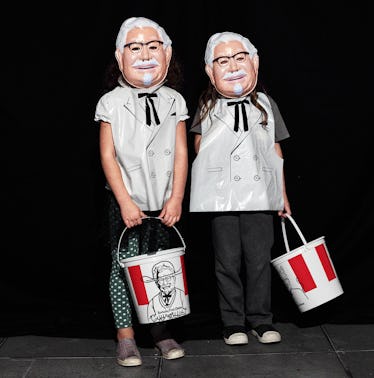 KFC Is Selling Colonel Sanders Halloween Costumes For Those Who Like Chicken More Than Candy
KFC
So, Halloween is just around the corner and many of us are trying to figure out what we are going to dress up as. You can go the safe route and dress up like a DIY version of your favorite animal, but in my opinion, that's kind of boring and a little overdone. If you want something unique and hilarious, you should consider dressing up as KFC's very own mascot, Colonel Sanders. This costume will definitely turn some heads — and lucky for you, Colonel Sanders costumes exist and be can purchased in time for Halloween. If you're wondering where to buy a KFC Colonel Sanders Halloween Costume, I have you covered.
That's right: If thoughts of dressing up as Colonel Sanders for Halloween keeps you up at night, don't fret, because you can order your very own costume on KFC Limited's website. The simple costume comes complete with a Colonel Sanders mask, and a funny little apron that resembles Sander's iconic white suit. The bucket — perfect for collecting candy — comes separately. Each costume will only set you back $5, so you can get one for your entire group of friends — and when you trick or treat, you can ask for fried chicken instead of candy.
These costumes are definitely a throwback to the easy costumes of the '80s and I honestly don't hate it. To get your costume by Oct. 31, make sure you place your order by Oct. 23, according to press release obtained by Elite Daily.
My favorite part about the entire costume is the bucket because each costume comes with a different Colonel Sanders design on it. The five different designs include a Colonel Sanders dressed up as a mummy, a vampire, a cat, a werewolf, a robot, a firefighter, and an astronaut. See them below.
OMG, these buckets are so cute and seem like the perfect Halloween collectors item. If you want your very own Colonel Sanders Halloween bucket, they will be available exclusively at KFC restaurants starting Friday, Oct. 27 while supplies last. Customers who go into KFC restaurants in the Halloween spirit (aka, wearing a costume) will have a better chance of getting a bucket, so make sure you dress up!
This isn't the first time KFC decided to offer cool merch to it's customers. Earlier this year, KFC China began offering their customers the opportunity to purchase an awesome KFC smart phone to celebrate the brands 30th anniversary. The new phone was called KFC Huawei 7 Plus and retailed for $161.92. Only a lucky few got their hands on the cool device, because KFC only created 5,000 units. The best part of the KFC Huawei 7 Plus was that came with the KFC app pre-installed, so there was no need to worry about installing in on your own.
If tech isn't really your thing, you might've enjoyed sitting in your living room taking in the fantastic scent of KFC fried chicken... coming from a candle. Last year, KFC New Zealand released a fried chicken-scented candle that was only available for a limited time. The only way to get a candle was via KFC New Zealand's giveaway for their advent calendar.
Who knew there was so much KFC merch out there? KFC Smart phones, chicken-scented costumes, and Halloween costumes are only the beginning, and I can't wait to see what they come up with next.
In the meantime, I'm going to roll up to my Halloween party dressed as Colonel Sanders, and I'll definitely be holding a bucket of chicken. I better win the costume contest!
Check out the entire Gen Why series and other videos on Facebook and the Bustle app across Apple TV, Roku, and Amazon Fire TV.