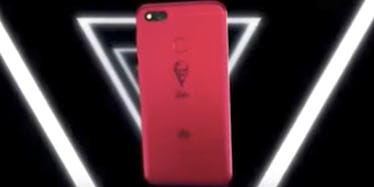 KFC Is Selling Its Own Smartphones So Fried Chicken Lovers Can Stay Connected
YouTube
To celebrate 30 years serving up Kentucky-style fried chicken in China, KFC has partnered with Chinese tech company Huawei to release its own smartphone.
It's a Kentucky Fried Smartphone, if you will.
The chicken chain reportedly made the unexpected announcement on their Weibo account last Friday, July 7. I personally did not see it coming.
It's called the KFC Huawei 7 Plus, and I'm so jealous we're not getting it in the states.
KFC reportedly paired the exciting news with a pretty sweet commercial that pays tribute to the past 30 years while highlighting the super cool features of their latest tech-forward initiative. Watch it below.
Music! Friends! Fried chicken! Everything the southerner in me wants.
What's more exciting, the KFC Huawei 7 Plus -- which is set to retail for $161.92 -- features the fast food joint's iconic Colonel Sanders logo above its inaugural year in China, 1987.
So basically, KFC is offering its customers access to the Colonel at all times. All the sudden, Apple's bitten fruit logo suddenly seems... too healthy.
Campaign Asia reports the KFC x Huawei smartphone comes with KFC's app pre-downloaded (I figured as much), 1,000 "K dollars," and K-music (a jukebox function that you can see in action in the video above).
Besides the fact that the KFC Huawei 7 Plus is only available in China, there's one more major Kentucky-fried bummer.
They're only releasing 5,000 units of the limited edition phone on July 13 through the app and Tmall, according to Campaign Asia.
Those lucky enough to get their hands on the red beauty will likely crave chicken every time they go to make a call or post on the 'gram, which is a finger lickin' good thing TBH.
As for those of us in the U.S., at least we have access to KFC's new — also limited edition — merch site, KFC Ltd.
(I'm getting the Colonel Sanders pillow for sure.)