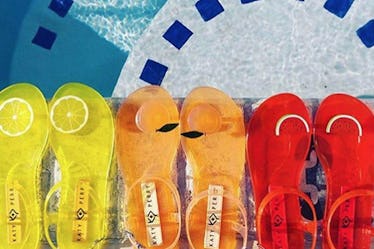 Katy Perry Made Scented Jelly Sandals & All Your '00s Dreams Are About To Come True
When it comes to fashion, there was no weirder era than the aughts. Juicy Couture jumpsuits and Ugg boots reigned supreme and if you didn't own an accessory made out of PVC, then you didn't know what was "hot." I miss those days! Luckily, Katy Perry's The Geli sandals are here to satisfy all of my inner '00s style dreams. Not only are they delightfully rubbery and uber colorful, but each pair smells like the same fruit that it's embellished with. Yes, you read that right. Move over smelly gel pens, a new must-have item has usurped your title as coolest scented product on the market.
As a girl, I can distinctly remember owning at least five pairs of jelly shoes. I even had a green pair that glowed in the dark and a clear pair filled with technicolor sparkles. I loved them so much for their futuristic appearance and easy-to-clean design, and I'm sure my mom loved them for their very reasonable price tag. After they had a heyday in the '90s, they came back again in the aughts, only to reemerge once more just a few years ago. In 2016 (ish), I remember Urban Outfitters releasing an adult-ified version of jellies, which signified that the shoe was slowly making its way back into the sartorial landscape. And earlier this month, the retailer collaborated on a collection of pool slides with Dr. Scholl's that featured wooden footbeds and a colorful jelly strap. They're the kind of shoes Paris Hilton would have died for a little over 10 years ago — and cement the fact that '00s style is back in full force and has hit officially mainstream. But Katy Perry's jelly sandals have taken it two (read: 10) steps further, thanks to their fruity nature, and it is a total delight to the senses.
As described on the Katy Perry Collection website (did you guys know this was a thing? Because I didn't!), "Everyone's favorite jelly sandals get a scented, tutti fruitti makeover perfect for tropical adventures and beachside cocktails." Available in three hues — or should we say flavors — each sandal features a buckle ankle strap, while a tiny slice of fruit tops a jelly column that goes between your big and second toes. The kicks come in green (lime), red (strawberry), white (cherry), pink (watermelon), orange (peach), and yellow (lemon). They retail for $49 and no matter your palette, there's one you're bound to like.
I should also mention that these aren't the only fruity offerings that Katy Perry collection offers. Called The Lexi, there's a purple style that, while not scented, features an entire cluster of grapes complete with leaves and all on its strap. They're fit for a modern, kitschy Grecian goddess and are probably some of the most outrageous shoes I've ever seen. "Straight from the grapevine, these sandals are a seriously sweet update on an everyday style. Always ready for a trip to the vineyard or sipping grape soda by the pool!" reads the description.
If you've followed Katy Perry's style over the years, then it's easy to understand why she would make such outrageous styles. From cupcake bras and pink leopard catsuits to blue wigs and absolutely bedazzled mini dresses, the singer is known for wearing an array of over-the-top pieces. I can totally see her wearing any one of her new sandals with an equally vivid look to match and wouldn't be surprised if we catch her out in about in them soon.
Grab a pair of your own before they're all gone — I guarantee they'll be a super juicy addition to your wardrobe.