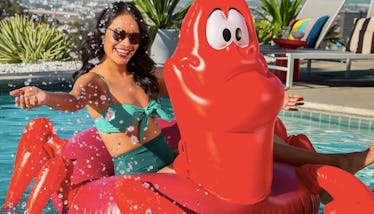 Adorable 'Little Mermaid' Pool Floats Exist & Here's Where To Buy The Collection
These on-and-off warm weather days are pure torture (seriously, I can't stand it). One day I'm breaking out my sunglasses and talking about how all of my friends and I "totally need a beach weekend," and the next day, I'm wrapped in eight sweaters, a scarf, a hat, and snow boots. I know I'm being "extra," but this is getting ridiculous. If you're banking on throwing a huge summer bash once the warm weather is finally here to stay, here's where to buy Disney's Little Mermaid Pool Party Collection for some additional undersea fun.
An invitation to a pool party was always the absolute dream (let's be real, it still is), and if you're planning on hosting any poolside celebrations this summer, each and every item from the Little Mermaid Pool Party Collection of pool floats is an absolutely necessary purchase. Not only will these floats, coozies, and accessories look adorable, but they're also sure to fire up your Instagram with every post. In all honesty, my wallet is in major danger right now — but since I've always wanted to be a part of Ariel's world, I'm willing to pay the price. Sorry, debit card — I'm just a poor, unfortunate soul.
I've always aspired to grow a mermaid tail, and it's finally (somewhat) possible with an Ariel Fin Towel. If you're devotin' full time to floatin', though, the Sebastian and Flounder floats are where it's at. When the drinks start flowing, make sure they stay afloat in these adorable inflatable cup holders. (You can even serve them in Flounder cups and Little Mermaid Drink Sleeves.) If you're just down to show some Little Mermaid fashion, however, you can choose from a Flotsam and Jetsam hat, a "Mermaid" spirit jersey, or even an Ariel Tote Bag. If you couldn't tell, I'm so about all of this.
It looks like Sebastian was telling the truth: Life really is better down where it's wetter. The Little Mermaid Pool Party Collection is super cute, and it's really making me really want to throw a pool party right now. The collection is currently available for shipping on the Shop Disney website, so make sure to snag it all while it lasts. Plus, there's even more items in the collection online... so if you decide to buy me a birthday present this year, just keep all of this in mind. Hint, hint.
While a Disney theme is sure to pump up your pool party, why not add a little wine to your pool float collection? If you haven't already seen these super cute Kangaroo "Bottle of Wine Pool Rafts," they're available on Amazon right now, and they're sure to keep the party afloat. The Kangaroo wine float comes in two flavors, so whether you're all about that Sauvignon Blanc or if you're more of a Cabernet Sauvignon kind of gal, you have some options. The raft is over seven feet in length, so it's pretty prime for soaking up the sun and sipping some wine. The best part is that each float will only cost you $30, and that's definitely a price to pay to jazz things up.
Even though it's still leggings-and-boots weather (unfortunately), it truly is never too early to start planning your summer pool party. And whether your celebration is decorated with adorable floats, drink floats, or drink holders from The Little Mermaid Pool Party Collection (or if it involves various Kangaroo Wine floats), your fiesta is bound to be totally perfect. Just make sure to get those waterproof iPhone cases ready, because as you probably already know, cute pool party Instagrams are an absolute must.