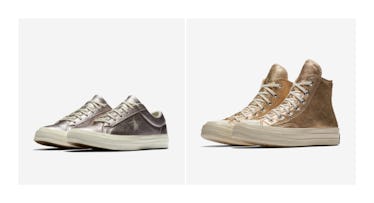 Converse Just Dropped Four New Metallic Sneakers, So You Can Shine Like A One Star
Courtesy of Converse
When I think of a classic sneaker, Converse always comes to mind. The genius of the brand is that they keep their signature styles but also provide ever-changing, trendy kicks. Their newest offerings are deliciously gilded high and low tops and here's where to buy Converse metallic sneakers, because you should never say no to rose gold.
Converse sneakers will never go out of style because you can wear them with literally anything. Millie Bobby Brown wore Converse to the SAG Awards for heaven's sake! She looked d*mn good while doing it, I might add. Miley Cyrus is also a fan of the brand, having created her own capsule collection of sneaks. Cyrus' collab was full of glitter and was just as popular as the singer herself. Perhaps due to the popularity of that launch, more Converse glitter sneakers were released and much applaud. Name any color and the brand probably makes a shoe in it, neon Converse sneakers included. There are even tie-dye Converse shoes!
One thing a true millennial will never tire of? Anything metallic, especially rose gold. And what do you know? There's a new launch of metallic One Stars and Chuck Taylor 70 high tops, and the styles bring all kinds of gilded goodness.
Converse Chuck 70 Heavy Metallic Leather High Top in Gold
Converse has other metallic sneakers, but with these, as the name suggests, they're heavy on the metallic. Gold on gold on gold. The Converse logo on the outside of each shoe is completely gilded, as is the reinforcement panel down the back. The rubber soles are also slightly higher than the typical Chuck 70s, to give them an old-school feel. The shoes have been around since the '70s (hence the name) and used to be the go-to performance basketball shoe. Nowadays, it's most often used for taking your everyday #fashun #lewk to the next level, and it does it so well.
Converse One Star Heavy Metallic Leather Low Top in Gold
If you prefer low top sneakers, there are options. Converse One Stars have been around since 1974 and was also originally a basketball shoe. As the brand's site says, "its boldness was later adopted and owned by the independents" and is being "constantly reimagined."
Converse One Star Heavy Metallic Leather Low Top in Silver
The low top One Stars come in silver, too!
Millie Bobby Brown is excited and you should be, too.
Converse One Star Heavy Metallic Leather Low Top in Rust Pink
I told you there were options! The One Star Heavy Metallic sneakers come in gold, silver, and, most importantly, rose gold. This particular color, dubbed "rust pink," has a gorgeous hint of pink and even a touch of lavender to it depending on the light. All in all, it's a millennial Instagrammers' dream come true.
Take those selfies, just don't forget to get the shoes in there!
Converse also has some other hot metallic kicks, take a look below.
Converse Chuck Taylor All Star Metallic High Top in Gunmetal
There's a gorgeous, gunmetal silver version of the high tops. This style is more akin to the traditional Chuck Taylors, with the afixed red, white, and blue Converse logo, and the smaller rubber sole. But the silver color keeps them feeling fresh.
Converse Chuck Taylor All Star Metallic Canvas Low Top in Gold
Chuck Taylor low tops are also available in some cool metallic shades, like this classic gold pair.
Converse Chuck Taylor All Star Metallic Canvas Low Top in Blue/White/Black
Lastly, there's this mouthwatering black and blue iridescent magic style that may be hard to say no to.
Me going to buy all of the metallic converse sneakers.