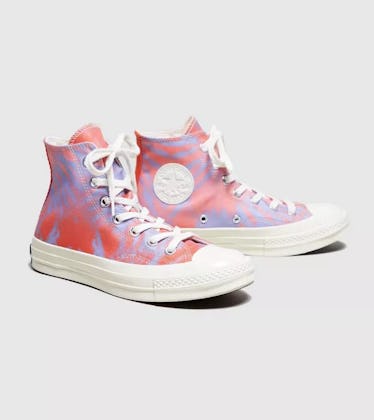 Converse's New Millennial Pink & Lilac Tie-Dye Sneakers Are A Candy Lover's Dream
Summer 2018 style is set to be all about sticky sweet colors twisted together into one garment or accessory. Pastels, rainbow, and oversaturated looks are in, meaning Converse's tie-dye sneakers are the pinnacle of footwear for this season thanks to their sweet-enough-to-eat color palette and classic Chuck Taylor silhouette. If you're into eye-popping pieces that are also super comfy, these kicks are definitely for you.
Earlier this week, Vans released their new "Sunset Fade" sneaker pack and people went wild over the three styles it contains; a classic Authentic silhouette and Slip-On and UltraRange Mesh styles. Each one, in its own way, features a color fade that starts with millennial lilac, then goes into a millennial pink-slash-juicy peach tint, before ultimately blending into a sunny yellow. The brightly dyed fabric looks like a wearable sunset or, as one Facebook user commented, "like a PowerPoint presentation." Hah! I happen to think they look like those delicious sour peach gummies, but to each her own. Regardless of whether you see natural beauty or digital design when you look at the styles, it's undeniable that they are cool. So it's not surprising that Converse, arguably Vans' biggest competitor for cool classic kicks, followed suit with their own shade shifting style.
The classic Chuck Taylor trainer gets a super colorful update thanks to shades of millennial lilac and a coral-tinted pink that take over its canvas upper. Rather than having a super blotchy and random dye design like most tie dye pieces, the shoes are dyed in such a way that it almost looks as if they have mini stripes in geometric patterns stretching across them in every which way. Silver eyelets and white laces add a nice fresh contrast, as do a white rubber toe cap and white midsole.
If you're scratching your head and wondering how on earth to style these bright and statement shoes, fear not. 2018 is also the year of the more is more mentality when it comes to getting dressed from head-to-toe, and pattern-clashing, color-mixing, and sensory overload have never been more encouraged. If minimalism is more up your alley, pair them with denim, a cool graphic tee with a white base, and simple silver earrings. If you're fearless in your style, pick out a cool floral vintage dress and pair of white cat eye sunnies to wear them with. Or, as Hypebae suggests, "Pair these bright sneakers with tonal pieces like Everlane's Air T-shirt and baggy, white denim jeans for an ultra-cool seasonal look." Pastels as neutrals? For this season, yes. Snag a pair now for $90.
Converse released another iteration of their classic silhouette earlier this week that's decidedly more tamed down color-wise than the above but still packs a modern and bold punch. A pastel rose shade, the sneaker boasts an all-leather upper with a matching midsole and toe caps. Pastel rose laces complete the shoe, while silver eyelets add a bit of contrasting definition. Thanks to their sole dusty shade, these would be easier to style if you don't like to mix prints. They'd ground wispy floral dresses with soft color palettes perfectly.
If the above hasn't convinced you that you absolutely need to invest in some brightly hued shoes, whether tie dye, faded, or otherwise, then maybe the spring 2018 runways of designers like Michael Kors, Alexander McQueen, and Tibi will. Millennial lilac and dusty pastel pink were central in their collections and not just in small touches here or there, either. Head-to-toe looks (yes, that includes shoes!) were imagines with the colors, proving that full-on sartorial saturation is the look do jour. Now there's just one question left: what kind of way will you choose to manifest it in?