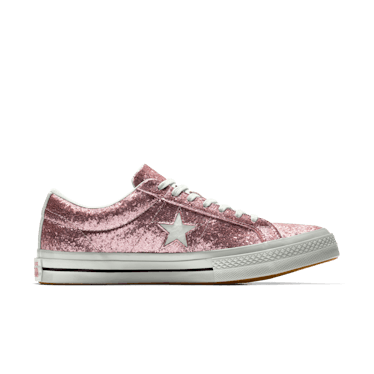 Converse One Stars Now Come In Blindingly Glittery Shades & You Can Even Customize 'Em
Nike
If you're looking to shine just a bit brighter this summer, your favorite footwear brand has totally got your back. Or your feet, rather. Converse's One Star glitter sneakers — which are awesomely blindingly twinkly — are here to put Dorothy Gale's ruby red slippers to shame. No, you can't click them together three times and suddenly be transported back to your humble abode (how sick would that be?) but their design is so good is totally makes up for it. Almost.
By now, you're probably familiar with the Converse One Star sneaker. It's a classic of the brand's and is beloved by everyone from Tyler the Creator (he's collaborated with the brand on a line of suede One Stars) to A$AP Rocky. Featuring a low-rise top and, most often, suede siding, it gets its name from the singular star that graces each of its sides. A far cry from classic Converse Chuck Taylors, it's got more of a cool streetwear feel.
Currently, you can get them in an array of colors and designs, from shades like red, navy, light blue, sunny yellow, and gray, to a black and white polka dot design. Never before have they been available in glitter, however, until now.
Thanks to the NikeiD customization service, you can now get your One Stars completely blinged out in three super shiny shades: gold, silver, and rose quartz. That's right, rose gold fans, you can now get your favorite shoe in your favorite hue. In my opinion, metallic shoes double as neutral shoes — you can wear them with just about anything and they'll look good. Remember the silver boot trend that took over last year? Let's make summer 2018 the season of the silver sneaker. (Way comfier, it's a win-win.)
All-over glitter isn't your thing? No problem. The customization service lets you choose just how much or little glitter you'd like. Reserve your preferred shade of shimmer for the heel strips for a more muted pop or allow the start to literally light up the shoe. If gobs of glitter is your preferred aesthetic, you can make the entire shoe shine. Even the rubber sole and laces can be customized to boast a glossy sheen. The best part? You can combine all three metallic hues into a single shoe, meaning a gold star, rose gold heel stripe, and silver rubber sidewall are all options. Heavy metal, indeed.
You also have the option to mix a plain leather in a selection of shades — including a dusty pink, light meringue yellow, and classic black — with sparkly details. The contrast of textures and finishes will make the shoe really pop. At $85, the shoes are a total steal. Converse are notorious for their quality and long lifespan, so you could be shining on for a long, long time to come.
Customization is always amazing — after all, who doesn't like being able to create something exactly to their taste? — but Converse has recently put out a bevy of new designs that are also worth mentioning. As I noted before, Tyler the Creator has collaborated with the brand on his own collections of GOLF le FLEUR One Stars, the most recent of which dropped on the first day of the month. Featuring a two-tone design and detail that sees the star encircled by a flower (the treads of the shoes are also rad), the style is uber bright, unique, and covetable.
Another stellar drop was the recent collaboration between Converse and MadeMe, which saw the One Star get an elevated upgrade — literally — via a chunky platform sole, MadeMe branded laces, and a corduroy finish.
Pick your favorite new One Star style and enjoy shining bright.