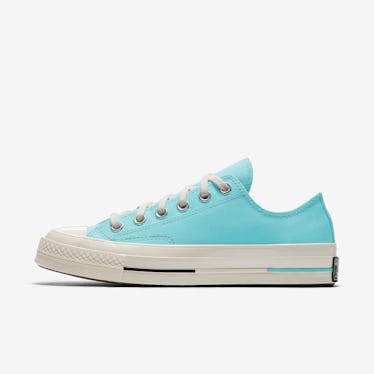 Converse Just Released Sneakers So Bright, You'll Smile With Every Step You Take
As much as I love white sneakers — they really do go with everything — I've got to admit that I'm getting a little sick of them. Yes, their light, versatile color renders them perfect for spring dressing but honestly, it's a bit boring at this point. Converse's Brights sneaker pack is here to spice up your warm-weather sneaker game with some awesome new shades that go with florals, tie dye, and everything in between.
Hi-rise Converse are my second sneaker style of choice. (Sorry, but Vans Old Skools have a very special place in my heart.) They remind me of the Ramones and cool, gritty, rock n' roll style, and seeing as my not-so-secret celebrity crush is any guy who can shred on an electric guitar, I think they're reallllly rad. (Alex Turner of Arctic Monkeys, be mine?!) I lived in my Chucks during college and don't even want to count how many pairs I ruined dancing at music festivals. Pre-2010, I rocked them in high school, though my favorite pair back then had a bubblegum pink tongue in each shoe and I think I strung them with Care Bear shoelaces. The punkish style of the mid-aughts was strange — thanks a lot, Avril Lavigne.
Converse All Stars have a timelessness to them as well as a cultural legacy. My dad wore them when he was a teen and in true hippie style hitchhiked around the USA playing music. Along with the Ramones (Converse actually did a limited-edition Ramones sneaker), Kurt Cobain, Snoop Dogg, and David Bowie have championed the style. And the brand has done so many amazing collaborations — with Tyler, the Creator, Comme des Garcones, Maison Margiela, and the Simpsons, to name a few — that they've become a mainstay within the modern fashion landscape. In short: they're just really awesome, and thankfully, they're not going anywhere.
In fact, a new crop of them called the "Brights" collection has just popped up for spring and it's a '90s dream. It features four new color ways of the Chuck 70 Canvas style, both in hi-top and low-rise form, and I guarantee you the Fresh Prince of Bel Air would have absolutely owned one of each, had they been around in his heyday.
The Chuck Taylor All Star Low now comes in "Crimson Pulse" (it's like a deep peachy hue) and "Bleached Aqua" (it looks like it name sounds) and each hue retails for $80. The Hi version, which costs only a bit more at $85, comes in two additional color ways: "Zitron," a light lemony yellow, and "Illusion Green," which is a shocking grassy hue. All of the styles feature white midsoles, which are scored with a streak of color that matches the canvas, and silver hardware. No Care Bears here, folks.
Overall, the collection is, as its name so appropriately suggests, super bright and cheery, and any single color way would look excellent paired with most florals. (The green hue, alone, matches leaves, stems, etc., making it a neutral in terms of pairing it with plant-based prints.) If you're someone who tends to shy away from prints when it comes to your outfits, these are also ideal for you. Pick any pair to wear with denim cutoffs and a plain white shirt and your look immediately gets a cool upgrade.
Shop the collection now at Nike.com and get ready to hold off on those all-white Stan Smiths you've been pulling out for the past five summers. It's all about bold colors for 2018, and your toes are a good place to start.