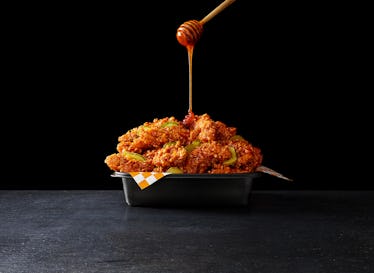 KFC's Hot Honey Chicken Will Be Your New Favorite Order — But There's A Catch
KFC
Not quite sure whether you'd like something mild or bold for lunch? Well, there's an option that'll let you have your sweets and get spicy, too. KFC's Hot Honey Chicken is the best way to add a little zest to your order, but there are a few things to keep in mind before making your way to the nearest restaurant.
Beginning Nov. 6, this Southern-inspired dish is available on Extra Crispy Tenders, Chicken Littles, and Extra Crispy Chicken. The golden honey taste is perfected with a hint of peppers, so you get the best of both worlds when it comes to flavor. The sauce is a hunger-inducing item that'll definitely make you look forward to breaking free from the office.
"The crispy sweet heat of Hot Honey Chicken creates a finger-lickin' good flavor that you can't resist," Mike Wesley, KFC U.S. senior marketing director said in a statement.
Perhaps what's even more enticing than the chicken itself is the chain's newest mascot: Colonel Bear. Wesley described him as the brand's "cutest Colonel yet." "Much like our founder, he knows it's always a good time to talk about Kentucky Fried Chicken," he added.
Behold: a little bit sweet, spicy, and cute all rolled into one. It's KFC's Hot Honey Chicken (and Colonel Bear).
As exciting as this news may be, the new flavor unfortunately isn't available for everyone.
KFC is currently testing Hot Honey Chicken. Those who are in locations throughout Norfolk, Virginia and New York state can get their hands on this awesome order for a limited time. For the rest of us, however, it's a waiting game. Fingers crossed that these bad boys will make their way onto the permanent menu (after all, they certainly sound delicious enough to be added). It sounds like it's the perfect accompaniment to Nashville Hot Chicken and Georgia Gold (just sayin').
And, to really up the FOMO, select locales in Virginia and New York will also offer its customers a taste of KFC's Smoky Mountain BBQ. The way to people's hearts is through BBQ, so this is definitely sad news for those who are not in the area. Try to stay positive, my friends. After all, the chain's release states that "KFC continues to innovate to bring southern-inspired regional flavors to restaurants across the country," so hopefully these "test" phases go smoothly so everyone's able to indulge.
If you're a bit bummed about this Kentucky Fried Conundrum, take a look at KFC's Twitter page for a good laugh. The restaurant is totally on its game with over 1 million followers... but you'll notice it follows a very select group of people (11 people to be exact). Those 11 people? Former Spice Girls and guys with the name "Herb." Well, well, well, KFC, you're just as hilarious as you are delicious, huh? Guess that's a good way to spice up your life, as far as social media is concerned.
One thing hungry fans are hoping for KFC to adopt? A delivery system. Lucky patrons in New Zealand receive their KFC orders right at their doors. It's innovative, convenient, and totally let's you revel in laziness. What's better than that? If UberEats can partner with McDonald's for a delivery option, certainly we can hope KFC will follow suit in the U.S.
For those in Virginia and New York — keep us posted. Everyone needs the inside scoop on the new KFC chicken. But please, try not to make the rest of the country too jealous when you order some comfort food and everyone else is stuck with a simple, plain 'ol salad. Colonel Bear: We're dying for a taste of the chicken everywhere (hint, hint). Happy munching, everyone.
Check out the entire Gen Why series and other videos on Facebook and the Bustle app across Apple TV, Roku, and Amazon Fire TV.