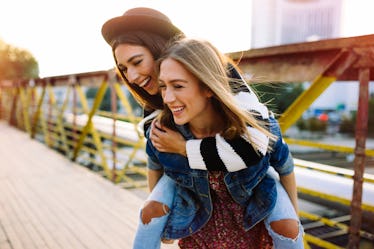 8 Things That Should Never Change When Your Sister Has A Partner
One of the greatest bonds ever is the one shared between two sisters. You're more than just family; you're best friends. Together you are the forever kind of besties who can withstand anything — even when one of you gets into a new relationship. When your sister has a boyfriend or girlfriend, you know that some things may adjust, but certain things will always be the same.
Deep down, you know that nothing — not even a SO — could get between you and your sister. You've been partners in crime since birth, and will continue to be just as close. Actually, when they started dating, you were the first person she called to tell you the news. After checking to make sure this new person was worthy of the queen who is your sis, you now feel totally comfortable supporting this match.
When my sister found herself in a new relationship, at first, I was a bit worried that she would stop texting me all the time and I would become the third wheel whenever the three of us hung out. Luckily, I've found that these eight things I hold dear in our sisterhood have not changed one bit, and you can likely relate.