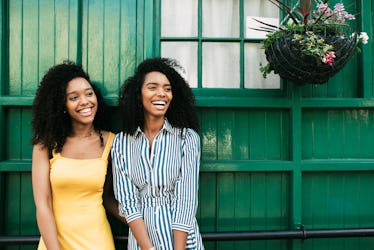 7 Reasons Why Life Is So Much More Fun In Your 20s When You Have A Sister
Your 20s is a really formative period of your life. You may be going through a ton of changes, including graduating college, moving to a new city, starting a new relationship, or maybe even getting married and starting a family. But despite all of these changes, one thing remains constant: The love and support you receive from your sister. She's a huge light in your life, and there are so many meaningful things you do with your sister in your 20s that make this decade of change a whole lot better.
Your sister is one of the best people you can have in your life in your 20s. She's there to keep all of your secrets and give you advice on whatever you're dealing with, and she never hesitates to offer up some pieces from her wardrobe or makeup collection for you to borrow (ahem — steal). You always look forward to the days when the two of you can hang out together on your own, and you live for all of the times when you can finally dish out all of the gossip that you've been storing up for a wine night with her.
Though you might be going through a lot of change in your 20s, you know that you can always count on having your sister by your side through it all. Here are just a few of the things that the two of you love to do together.