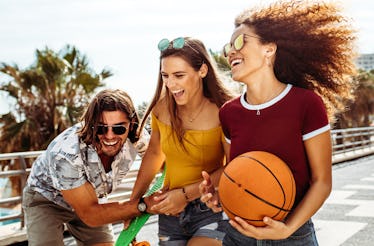 If Your Best Friend's Partner Is Your Good Friend, Too, You Hit The Jackpot In These 8 Ways
So, your best friend just got a new bae. They're happy, so naturally, you are as well, but there's an extra sparkle in your smile because you already know this special person. In fact, your BFF is now dating one of your good friends. (Someone get a lottery ticket ASAP, because it's like you just won the jackpot.) You see, when your best friend's partner is your friend, too, it's like a win-win all around.
It's always an adjustment when your bestie starts seeing someone new. You have to meet them, get to know them, and determine if they're worthy of someone as wonderful as your BFF. You don't want your bestie dating just anyone. They have to be the one. Plus, since you and your BFF are like PB and J to each other, it's like introducing a new ingredient into the mix. At the end of the day, it's a beautiful new flavor.
Luckily, you already know this new person so well that you have your two thumbs way up high in approval. If it wasn't already clear how exciting this news is, you might need to be reminded of these eight ways that make this new arrangement the best ever.