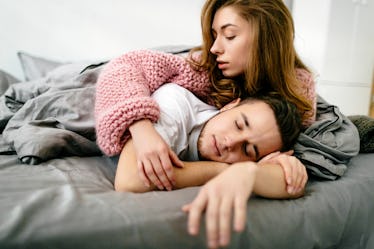 If You're An Early Riser, But Bae Sleeps In, You Can Relate To These 10 Things
You firmly believe that the early bird gets the worm. However, your partner believes in the power of pressing the snooze button a few too many times. You are well connected on many levels, but when it comes to waking up in the morning, you're on totally different pages. Actually, when you wake up early but your partner sleeps in, it's definitely an adjustment you have to deal with together. It makes your brunch plans more like linner plans, and going on an early morning jog together is almost impossible. Even if you may not be synced in your sleep cycles, by now, you've made that difference work for you.
When you first started dating, you noticed that your early morning texts to bae took a while to get replies, and the first time you slept over, you likely chilled in bed, patiently waiting for them to get up. That's when it clicked that your timing is a little off in the morning. You may be an early bird, and your SO is a night owl.
As different as you may be, you're still two birds who fly together. You just have to adjust to these 10 things that happen when you're up hours before your partner ever opens their eyes.