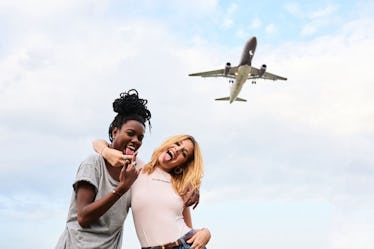 7 Amazing Things That Happen When You Reunite With Your Study Abroad Friends
The sweetest reunion you'll have in your lifetime is with your study abroad friends. These are the people you didn't know until you landed in a totally new country with a suitcase and four months of possibility ahead of you. They were there when you learned amazing things about yourself while seeing all of those dreamy sights throughout Europe, and when you sipped limoncello at the cafe downstairs after a long day of classes. Yes, you've been missing them so much, but it won't be much longer until you see them again. When you reunite with your study abroad friends for the first time, a few things happen. It's truly the most memorable reunion you'll ever experience.
If you're anything like me, you probably think about your semester abroad on the reg. You can remember walking to class and grabbing a shot of espresso on the way. The weekend trips to other countries are engrained in your mind forever, and you get caught daydreaming about where you'll be next all the time.
Your love for traveling truly started with living in another country for a few months, and being able to call it home. Now, you don't think you'll ever be able to get enough of exploring the whole wide world. Lucky for you, though, your study abroad friends totally get it. You'll reunite and talk solely about all the wanderlust you've had lately. Not to mention, these seven things will totally happen, too.