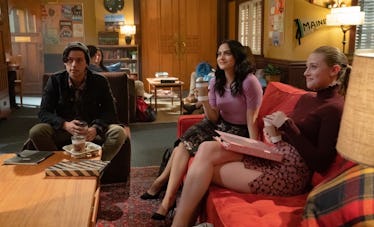 Here's When 'Riverdale' Season 4 Will Be On Netflix
The CW
While a lot of Riverdale viewers make sure to keep up with the teen drama whenever The CW airs a new episode, there is also a sizable portion of the fanbase who opts to wait until an entire season has dropped on Netflix to marathon the whole thing at once. For those fans, the biggest question about every season is when it will finally be available to stream on Netflix. As the current season wraps up, Netflix has revealed when Riverdale Season 4 will be on Netflix, and it's coming very soon.
As Riverdale Season 4 is nearing its end, Netflix announced all 19 episodes of the season will land on the streaming service shortly after the final airs. In a tweet revealing all of its upcoming content for May, Netflix confirmed Riverdale Season 4 will be available to stream on Thursday, May 14. Although Season 4 was originally planned to include 22 episodes — the same number as Seasons 2 and 3 — the season was cut short due to the coronavirus pandemic. Riverdale writer Ted Sullivan revealed on Twitter that Season 4 will now end with Episode 19, titled "Killing Mr. Honey." Episodes 20, 21, and the planned finale will be incorporated into Season 5 instead.
There is still the big question about how Season 4 will end, but this Netflix announcement may have just helped clarify things. The CW has not yet revealed when the Season 4 finale will air, but it can be guessed at based on the network's typical release pattern. Previously, Netflix has released full seasons of Riverdale exactly eight days after The CW aired the season finales for both Season 2 and Season 3. That seems to suggest Season 4's makeshift finale airdate will be eight days before its May 14 drop date on Netflix, aka Wednesday, May 6. That's not official, but it's definitely the best guess for right now.
The shortened season probably does not come as too much of a shock to fans who have been following news about the series. Because of coronavirus concerns, production for Season 4's final episodes was halted in March, and the season's musical episode was pushed back. With no clear end to the pandemic, there was no way to get the final Season 4 episodes filmed in time for its expected finale date, but at least fans can rest assured most of the planned storylines for those lost three episodes will turn up in Season 5.
The move is similar to what happened with Grey's Anatomy, which recently ended its sixteenth season early with plans to insert the final storylines that could not be made in time into the beginning of Season 17.
While Riverdale Season 4 may not be getting the finale its writers were intending, at least now fans can look forward to marathoning all of the 19 episodes that did get made when they all become available on Netflix on Thursday, May 14.
If you think you're showing symptoms of coronavirus, which include fever, shortness of breath, and cough, call your doctor before going to get tested. If you're anxious about the virus's spread in your community, visit the CDC for up-to-date information and resources, or seek out mental health support. You can find all Elite Daily's coverage of coronavirus here.
This article was originally published on