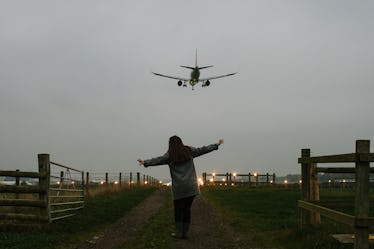 Here's When You Should Buy Your Thanksgiving Flight If You Still Haven't Booked It Yet
Booking flights is never a fun task, which is probably why most people wait until the very last second to do it. If you're one of those people, I totally get it — I'm the queen of procrastination. However, you might want to change your ways while buying flights home for the holidays... especially Thanksgiving. As you know, Thanksgiving is less than a week away, and you probably have your schedule set in stone. Chances are you're planning on spending Turkey Day dinner with family and already made plans to see your childhood friends. If you're stoked about the time off and wondering when you should buy your Thanksgiving flight, drop everything and do it now. Seriously. Go buy it. I honestly don't know what you're waiting for.
At this point, there's not really a specific date between now and Thanksgiving that would be considered "cheap" to buy your holiday flight. Why? Because you've managed to wait until the very last second, and flight prices are going up every single day. It's annoying, I know — but that's just what happens when you accidentally wait too long to book your holiday getaway.
However, there was a time period that was proclaimed the best time to buy your Thanksgiving flight home. Unfortunately, that time period is long gone.
According to a Skyscanner press release focused on Thanksgiving travel, Skyscanner said the best week to start buying Thanksgiving plane tickets at a low cost was the week of Sept. 4. It also said buying tickets 11 weeks out is the best time to purchase for Thanksgiving travel. Apparently, if you followed that advice (I didn't — oops), you might have saved up to 4 percent on your ticket or purchased one for about $300.
To find this info, Skyscanner analyzed data surrounding Thanksgiving 2016 and compared the prices of departures and returns. It sounds like a lot of work, but thanks to them, we now know when to buy our Thanksgiving flights for next year.
Research done by Hopper about holiday travel also suggests that you definitely should have already purchased your Thanksgiving flights. However, its research suggests you would have been fine booking in October. Apparently, airfare in October doesn't vary much — but it suggests you purchase your flight before the week of Thanksgiving.
So, what if you did wait until November?
There are still options if you waited until the last minute, so don't worry too much. According to Hopper, waiting until early November to book your flight will cost you $1 a day — and waiting until the final weeks before Thanksgiving will cost you $10 a day. Yikes.
At this point, your best option would be to either book your flight for Monday, Nov. 20 or Thanksgiving morning. If you can take off work, the first option sounds like the better one. By booking your flight for Monday morning, you can reportedly save $48 (hooray!). However, if you wait until Thanksgiving morning to fly, you can reportedly save $54. There isn't too much of a difference, but if you're trying to save a little bit of cash, either option seems like it'll do.
While you're booking last minute flights, you can always keep an eye out for Thanksgiving flight sales and deals. Who knows, you might luck out and find a super cheap flight home for the holiday. Either way, make sure you book your Thanksgiving flight as soon as possible — and if you haven't bought one for Christmas yet, you should look into that, too.
Check out the entire Gen Why series and other videos on Facebook and the Bustle app across Apple TV, Roku, and Amazon Fire TV.