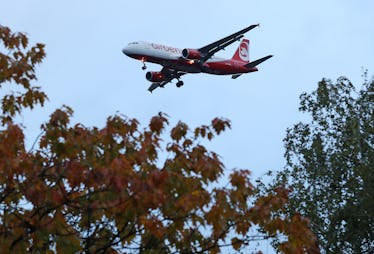 These Thanksgiving Flight Sales Will Make Buying Tickets Last Minute A Little Less Painful
Sean Gallup/Getty Images News/Getty Images
The countdown is on. It's less than a week until Thanksgiving, but don't panic just yet if you still need to book your flight home. Yes, your flights will be a little more expensive than if you would have booked them earlier in the fall, but there are some deals still to be had. Never fear, you can still snag an affordable flight to be with the family for the holiday when you check out these Thanksgiving flight sales.
As you probably know, the Wednesday before Thanksgiving is the busiest travel day of the year — but sometimes, it's difficult to avoid traveling that day due to work schedules and limited time off. Procrastinating shouldn't mean that you have to empty your wallet for a roundtrip flight (you still have stockings to stuff come December). If you can ditch the office earlier in the week, though, it might help in the saving-cash-money department.
The first place you'll want to go looking for affordable airfare is an online travel company, like Expedia. This way, you can search multiple airlines at once and have a better shot at finding the best deal. Some of the lowest prices that are still available for round-trip Thanksgiving flights are under $300.
The following roundtrip flight prices were provided to Elite Daily from an Expedia representative.
If you depart on Monday, Nov. 20 from Seattle (with a Friday, Nov. 24 return flight), you can get to your Las Vegas Thanksgiving celebration for $266 on Spirit Airlines. The savings are really in store for you if your travel route is Atlanta to Orlando. You can depart Atlanta en route to Orlando on Nov. 20 (with a Nov. 24 return flight) for $200 on Spirit Airlines.
If New York is your base, the prices are just a bit higher, but they're still pretty manageable. A New York to Atlanta flight departing on Tuesday, Nov. 21 and returning Friday, Nov. 24 will run you $348 roundtrip on Delta Airlines. A New York to Denver trip during the same time will run you $360 on Delta Airlines.
Once again, the closer you get to Thanksgiving, the higher the ticket prices will go. For example, Expedia also provided a list of last-minute roundtrip destinations for under $500. If your destination is Miami and you leave by Tuesday, Nov. 21, you'll pay an average of $376 for a roundtrip ticket — it could be higher or lower depending on your departure city. If you depart for Miami after Nov. 21, your average roundtrip ticket price will go up to $486.
Other helpful websites that can scour the web for airfare deals for your specific destinations include Skyscanner, Airfarewatchdog, and Orbitz. These types of websites are your best bet because you will save time by searching multiple airlines at once, instead of going to each airline individually. And if the prices are really expensive, you can always try to work your puppy dog eyes to see if mom and dad might go "halvsies" with you (just be prepared to forgo a Christmas present from them if they do).
Obviously, there is no other choice than to pay for a plane ticket if you want to get to Thanksgiving this year, but you should set a calendar reminder for next year to buy your Thanksgiving airfare in October. According to the travel app Hopper, prices remain pretty steady for Thanksgiving throughout all of October, and then they go up about $10 a day in the two weeks leading up to Thanksgiving.
Don't beat yourself up about buying last-minute, though. You can still find good deals using the websites listed above, and you'll forget all about the money you could have saved by booking earlier by the time the pumpkin pie is brought out. Family time is priceless anyway, right?
Check out the entire Gen Why series and other videos on Facebook and the Bustle app across Apple TV, Roku, and Amazon Fire TV.