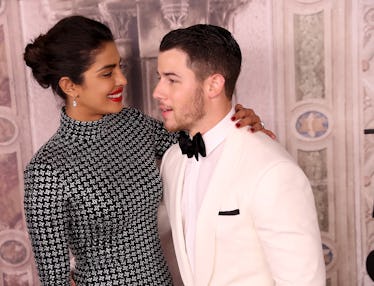 This Priyanka Chopra & Nick Jonas Wedding Update Will Make You So, So Happy
Rob Kim/Getty Images Entertainment/Getty Images
While you're probably busy pounding your Pumpkin Spice Latte and eating a microwavable lunch (hi), Priyanka Chopra and Nick Jonas are busy planning their wedding. The two celebrities got engaged in July 2018 after a brief but powerful courtship, and now it looks like they're actually closer to walking down the aisle than everyone originally thought. Obviously, people are wondering — when is Priyanka Chopra and Nick Jonas' wedding? While fans don't have a date yet, they can confidently start preparing themselves accordingly. Elite Daily reached out to both Chopra and Jonas' teams for comment on their wedding timeline but did not hear back by the time of publication.
While the wedding-specific details are still few and far between, Jonas and Chopra have made concrete steps towards becoming husband and wife. For example, around two months after their engagement, Jonas and Chopra flew to Mumbai, India where they participated in a roka ceremony along with their families. A roka is a traditional Indian ceremony that symbolizes the union of the bride and groom's families before the wedding. At that time, Chopra's mother, Madhu, told DNA India it was "too soon" to pick a wedding date, explaining, "They will take some time to decide where they want it and when they want it."
Well, perhaps the time to make decisions has come.
According to Entertainment Tonight, wedding planning is in full swing. "Priyanka and Nick are ready to tie the knot sooner than later," said one source. "The couple has had an accelerated relationship, and are very comfortable with one another.
The source added,
Priyanka has already been planning the wedding for a couple of months now and is excited to call Nick her husband one day. Priyanka and Nick are on the same page about wanting to get married earlier rather than later, and are telling friends it will most likely be next year.
'Scuse me. This insider claims Priyanka has been planning the wedding for a couple of months? They've only been engaged a couple of months! Talk about living and loving in the fast lane.
After returning to the states, Jonas went on The Tonight Show Starring Jimmy Fallon in September to talk about the roka experience. Jonas explained,
After we got engaged, we went to India, to her home country, to Mumbai, and my parents came along. We did this beautiful Roka ceremony. It's a confirmation from both sides of the family that they approve of the engagement. There's some beautiful prayers and a connection just for the family to have a chance to meet and hang out. It's really incredible.
Jonas added that the roka brought him and his fiancée so much joy. For them, it was ideal to have a private moment before things get really wild leading up to the actual wedding. "For she and I, I think it was just nice to have that time with the family first. Have that private moment then be able to share with the world afterwards," he said.
OK. So that's where we're at. The wedding is "sooner than later," and probably sometime next year. Basically, Jonas and Chopra are moving full steam ahead.
Hopefully, the waiting game won't last much longer!