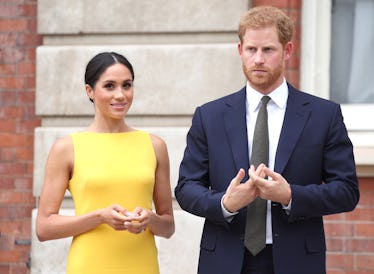 Meghan Markle's Stacked Rings Could Be A Clue About When Her Baby Is Due
Yui Mok - WPA Pool/Getty Images
Meghan Markle is pregnant with her and Prince Harry's first child, so you know what that means: internet theories galore! The internet is especially great at creating theories about famous babies. There was the theory that Kylie Jenner would confirm her pregnancy on the Kardashian holiday card, and there was even a theory that she was Kim and Kanye's surrogate. Both of those theories were false, but this is all to say that the internet can get hella creative with these theories. That said, the internet's new baby theory is centered around the question, "When is Meghan Markle's due date?"
One eagle-eyed Meghan and Harry fan on Twitter pointed out a new ring the Duchess of Sussex has been seen sporting while on her and Harry's royal tour. Meghan was seen wearing a gold stacked ring with three gems in it: one looks like a green peridot, one looks like a diamond, and one looks like a sapphire. "Who cares? She probably just thinks the ring is cute," you say, which yeah, probably. But what's a popular gift mothers receive? Jewelry with the birthstones of their kids. This fan's theory states that the gems in the duchess's ring are, in fact, the birthstones of her, Harry, and their baby, and therefore it reveals when the royal baby is due.
Meghan's birthday is in August, making her birthstone a green peridot. Harry's birthday is in September, making his birthstone a sapphire. The remaining gem in the ring looks like a diamond, which is the birthstone for the month of April. Kensington Palace confirmed in Meghan and Harry's pregnancy announcement on Oct. 15 that she is due in spring 2019, so the baby being born in April is a total possibility. Elite Daily reached out to Kensington Palace for comment on this theory, but did not hear back by the time of publication.
Here's the ring in question.
Fans think it's a pretty legit theory.
The duchess wearing blue isn't enough evidence to prove that she and Harry are expecting a boy, though, and Kensington Palace hasn't hinted at anything about the sex of the baby in the time since announcing her pregnancy.
The happy baby news came on Oct. 15.
"Their Royal Highnesses The Duke and Duchess of Sussex are very pleased to announce that The Duchess of Sussex is expecting a baby in the Spring of 2019," the announcement read. "Their Royal Highnesses have appreciated all of the support they have received from people around the world since their wedding in May and are delighted to be able to share this happy news with the public."
The theory about the stacked ring is pretty believable, I have to admit. Basically, every mother I know has a piece of jewelry featuring her kids' birthstones, and the green and blue gems in Meghan's ring are really similar to the colors of Harry and Meghan's birthstones. So if the baby ends up being born in April, then this theory will stand true. But even if the baby is a boy — which, again, hasn't even been remotely hinted at — Meghan's clothes are not good enough reason to confidently say that that theory was legit. Thank you for coming to my TED Talk.