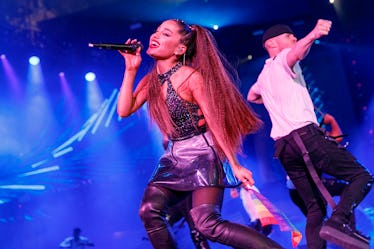 Here's Why We Think Ariana Grande's 'Sweetener' Tour Dates Could Be Up In The Air – UPDATE
Rich Polk/Getty Images Entertainment/Getty Images
It's been a whirlwind and very emotional month since Ariana Grande blessed our ears with the sweet music of Sweetener, and fans are starting to wonder, when is Ariana Grande's Sweetener tour? Well, judging from the singer's latest tweets, the prospect is still "scary" and she's on the fence about solidifying her plans, so unfortunately there's no telling when you'll be hearing "God Is A Woman" IRL. Elite Daily reached out to Ariana Grande's team about planned tour dates, but didn't hear back by the time of publication.
UPDATE: Ariana Grande announced on Oct. 25 that her Sweetener tour will begin on March 18 and will conclude on June 18.
EARLIER: While previous reports from Grande's manager, Scooter Braun, suggested that the songstress would be hitting the road and performing hits off her latest album in 2019, Grande's tweets on Friday, Sept. 28 suggest that we could potentially be seeing her live sooner than expected. It's a big maybe, and TBH, Grande's messages about a potential tour have me more confused than ever.
On Friday morning, it's clear that Grande's loyal Arianators were on her mind as she took to Twitter to tell them, "Hello, I love you." Her comments section was instantly flooded by fans sending messages of support and reminding her to take time to heal in the aftermath of ex Mac Miller's passing, at which point she hinted that she could be spontaneously going on tour.
"I kno. but i miss u," she told her fans.
I'm antsy. can't sit still. i wanna tour now. yesterday i jus wanted to sit home forever but today i wanna do shows and see u. it's all v up n down rn. but hi ily. i am working on it. i'll keep ya posted.
In response to one user who told her to take all the time she needed to make the decision, Grande wrote, "I'd never regret it. my happiest moments are with y'all and on stage and stuff. i think it's just the looooooong chunks of time away from home that are scary to me rn. hi i'm being too honest and people r gonna tear me apart but idc anymore. lol."
However, that doesn't mean that Grande is ready to pull out all the stops with a Dangerous Woman-esque show. She pondered, "Like maybe i'll do a mini one. i cant do what i did last time right now. that i do know. whatever it is i hope it's okay with you. i just love and miss you. everybody telling me i need to take time but i'm so antsy. idk. ily."
The "Side To Side" hitmaker concluded her Twitter spiel with a message to her fans letting them know that despite everything she's going through, she's going to be OK. "ily more i'm so sorry for yesterday yikes," she wrote. "O love u and never want u to worry ab me or think i want attention sksksjsjs i have way too much as it is w/o askin. jus had a human moment and wanted to confide. u know how much i love you. on some real life sh*t. and yeah. sry & ily."
The takeaway? Considering that things are still very much "up and down" and Grande is taking things day by day, we're no closer to finding out exactly when we'll all be hearing the singer's vocal prowess in real life. But judging from her tweets, I wouldn't be surprised if it was sooner rather than later.