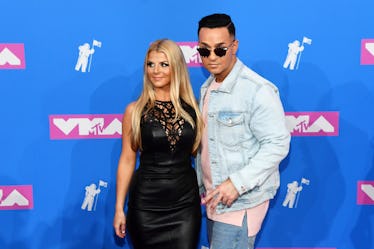 Here Are All The Details 'Jersey Shore' Fans Should Know About Mike's Wedding Special
Nicholas Hunt/Getty Images Entertainment/Getty Images
Keep calm, but Mike "The Situation" Sorrentino is tying the knot as we speak. His Nov. 1 wedding to longtime love Lauren Pesce has brought the majority of the Jersey Shore: Family Vacation cast together, but as fans, we obviously have to wait awhile before we find out via our screens how the big day exactly played out. When does the Situation's wedding special air? We likely have to wait for the beginning of the second half of Jersey Shore: Family Vacation Season 2.
The couple's November wedding was confirmed after Sorrentino was sentenced to eight months in prison in October for tax evasion. E! News reported that court papers ordered Sorrentino to enter prison no sooner than Jan. 15, 2019, meaning that he and Pesce had the holiday season to get married and have a few weeks of newlywed bliss together. Soon after the Situation's Valentine's Day proposal aired on the first season of the MTV revival series, Sorrentino then announced in a response to a fan that their wedding would air during Season 2 of Jersey Shore: Family Vacation.
Well, after beginning in late August, the second season is still airing footage from the end of the summer. Season 1 included 13 episodes, and Nov. 1's Jersey Shore: Family Vacation episode, "Where's the Beach?," marks the season's twelfth episode. MTV hasn't confirmed whether the second season will end with the same number of episodes as Season 1 or if it'll pull a Teen Mom and continue the season after several weeks of hiatus. Given the wedding, Sorrentino's sentencing, and ongoing IRL drama surrounding co-star Ronnie Ortiz-Magro, the show definitely has enough footage to end Season 2 soon and save the Situation's big day for a third season.
The scheduling of the wedding special is a little fuzzy, but one thing we know for certain is that plenty of familiar faces from Jersey Shore will contribute to the special day. When several cast members attended the couple's September wedding shower, it was clear that the group was going to hit up the wedding with their hardcore partying skills in tow. Ortiz-Magro is reportedly Sorrentino's best man, while Nicole "Snooki" Polizzi revealed on The Jenny McCarthy Show that her daughter Giovanna and Jenni "JWoww" Farley's daughter Meilani will be flower girls in the ceremony. Plus, it just wouldn't be the Situation's wedding day without a special "MVP" moment with Vinny Guadagnino and Pauly DelVecchio.
Although who scored a wedding invite probably would've created drama back in the old days, it seems that the gang are handling things maturely this time. Once a Jersey Shore troublemaker, Angelina Pivarnick is attending the ceremony, while it looks like former cast member Sammi "Sweetheart" Giancola may skip this one (she was promoting jewelry while other old pals were sharing pics of their wedding prep). Seeing as the wedding is being televised and we don't know when Giancola and the Situation last hung out, it makes sense that she may not appear in those cast photos at the reception. Still, any Jersey Shore milestone is one worth celebrating regardless of the guest list.
Cheers to the happy couple! We'll blow up all of their wedding pics on Instagram until MTV spills news about the special's airdate.
Season 2 of Jersey Shore: Family Vacation continues on Thursday, Nov. 1, at 8 p.m. ET on MTV.