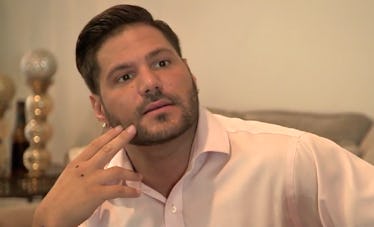 This Update On Ronnie & Jen's Post 'Jersey Shore' Relationship Doesn't Look Good
MTV
Although they recently claimed to be on good terms with each other, it looks like Jersey Shore couple Ronnie Ortiz-Magro and Jen Harley have reached another rough patch in their relationship. Soon after Ortiz-Magro implied on Instagram that Harley gave him a black eye, she has clapped back, and her response hints at more legal trouble ahead for the pair. This update on Ronnie and Jen's post-Jersey Shore relationship suggests that the drama between the couple is far from over.
On Oct. 24, Ortiz-Magro shared a selfie on his Instagram Story displaying a close-up shot of a black eye on his face. The longtime Jersey Shore star implied in the Story's caption that Harley, his on-and-off girlfriend and the mother of his 6-month-old daughter, was responsible for the bruise. Although he tagged the incorrect Jen in the caption, the shout-out appears to be a mistake, as Ortiz-Magro wrote:
Sorry for lying to my friends and family, sometime u love people so much your willing to lie and the hurt the people that love you the most to Protect @JenX Kidddddddddddd
Elite Daily reached out to Ortiz-Magro for further comment, but did not hear back by the time of publication. His allegation came several weeks after Harley claimed on Instagram that the pair were "the best they've ever been," although she also acknowledged that her partner's time on Jersey Shore Family Vacation fuels the majority of their problems with each other. Now following Ortiz-Magro's controversial post, Harley has made it clear that their happy bubble has definitely burst.
On. Oct. 26, Harley reportedly told a fan on Instagram, "No I will never speak to him again. I've kept my mouth shut for to [sic] long." On her own Instagram Stories, she also posted screenshots of a text exchange allegedly between herself and Ortiz-Magro that she called "the truth about the black eye." The conversation Harley shared suggested that the black eye resulted from a "double-sided incident." Elite Daily reached out to Ortiz-Magro's team for a comment about Harley's claims, but did not hear back by the time of publication.
Harley's Instagram updates emerged as TMZ reported that police were called to break up another fight between Ortiz-Magro and Harley on the night of Oct. 25. After Ortiz-Magro posted a video to Instagram claiming that Harley had left their baby and her 12-year-old son home alone while she went out with friends, Harley arrived at Ortiz-Magro's home to pick up their daughter Ariana Sky. Ortiz-Magro and his aunt reportedly prevented her from entering as the older woman accused Harley of causing drama for an income. The Jersey Shore star also posted and deleted a screenshot of texts in which Harley asked him for money to apologize for humiliating her. Elite Daily reached out to both Ortiz-Magro and Harley for further comment and did not hear back by the time of publication.
Whew, this is a lot. Their conflict stirs after a summer of even more drama for the couple, including cheating accusations, a physical altercation, and Harley being accused of dragging Ortiz-Magro with her car. Elite Daily reached out to Magro's team for comment on the incident but did not hear back by the time of publication. Because the filming of Season 2 of Jersey Shore Family Vacation wrapped in the later half of the summer, these events have played out off-camera, but we'll have to wait and see if any of the couple's troubles make it into future episodes of the hit MTV series. We wish both of them the best as they work out their issues.