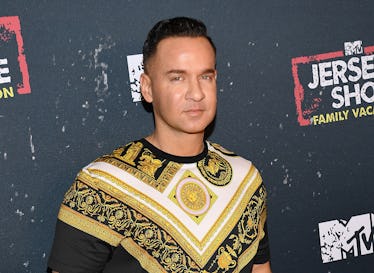 'Jersey Shore' Fans Have A Big Question About The Situation's Sentencing
Dave Kotinsky/Getty Images Entertainment/Getty Images
Jersey Shore Family Vacation star Mike "The Situation" Sorrentino has been sentenced to eight months in prison and two years of supervised release in his tax evasion case. Sorrentino's team confirmed the news to Elite Daily via email. With Season 2 of the rebooted MTV series currently airing, it's unknown how Sorrentino's new future may affect a potential third season of the show. If Jersey Shore Family Vacation is renewed for more episodes, will the Situation's sentencing be on Jersey Shore? Here's what we know so far.
UPDATE: Sorrentino's team gave a statement to Elite Daily saying, "Mike accepts the courts decision and looks forward to marrying his college sweetheart, Lauren Pesce and moving forward together after serving his sentence. He anticipates to come back stronger as an individual and couple in the same healthy mind set that he has had for the last 3 years. He and Lauren are both so thankful for everyones support and prayers!"
EARLIER: On Oct. 5, Sorrentino appeared in New Jersey federal court after pleading guilty to one count of tax evasion in January. Before he was also sentenced to two years in prison, his brother Marc pleaded guilty to "aiding in the preparation of a false and fraudulent tax return." His brother was also sentenced to two years jail time on Oct. 5. Elite Daily reached out to Marc Sorrentino for comment but did not hear back by the time of publication. The legal decision comes after the brothers were originally indicted in September 2014 for failing to properly pay taxes on the reality star's $8.9 million income. According to memos gathered by the Associated Press, Sorrentino's attorney fought for his client to receive probation because he allegedly did not contribute vastly to the tax crime.
Although Sorrentino's Jersey Shore co-stars were all in attendance at his hearing, whether fans will see the sentencing from their perspectives is unclear. Photographs of the cast arriving at the courthouse together show camera men in the background, but as of now, there is no known distinction between MTV cameras and news teams. Season 2 of Jersey Shore Family Vacation, following the cast's adventures in Las Vegas and then New Jersey, debuted on MTV on Aug. 23 after its filming wrapped earlier this summer. Despite the speedy turnover between the reboot's first two seasons, MTV has yet to confirm a third season, and Sorrentino's prison sentence is certainly expected to affect the decision to film another set of episodes.
However, a scroll through Twitter does hint that a Family Vacation episode covering the sentencing is in the works. Journalist Andrew Ramos shared video of the cast sans Sorrentino walking through Newark with cameras in tow, reporting that they were filming for their own series.
While five of the Jersey Shore stars were seen outside, only Jenni "JWoww" Farley and Vinny Guadagnino were reportedly in the courtroom during Sorrentino's sentencing. Farley appeared about a week after filing for divorce from her husband of three years, Roger Mathews. Considering the timelines of both her divorce and Sorrentino's hearing, neither event is expected to appear in Jersey Shore Family Vacation's ongoing season. As fans are still in the dark about the possibility of a third season, MTV covering both updates in a special episode could be a quick solution to appease viewers.
Cast members have recently hinted that they will keep filming Jersey Shore Family Vacation for as long as possible. In August, Guadagnino told E! News, "I'll do it until people are sick of us." However, the outcome of Sorrentino's legal battle has always lingered over the show's narrative, and seeing as how tight-knit the Jersey Shore cast is, the stars might be reluctant to film a new season if one of their own isn't there. We'll have to wait and see if Jersey Shore Family Vacation will live on without Sorrentino.
Season 2 of Jersey Shore Family Vacation continues on Thursdays at 8 p.m. ET on MTV.