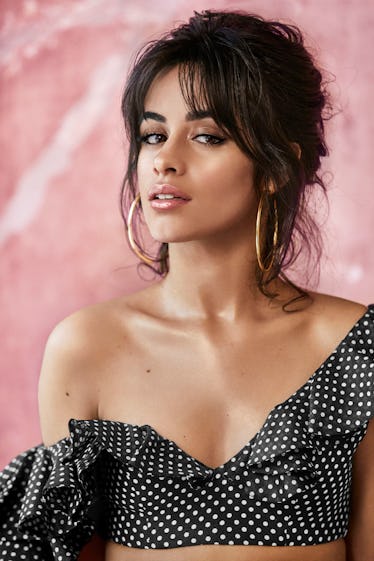 The New Camila Cabello x L'Oreal Paris Collab Will Put Half Of Your Heart In Havana (Ooh Na Na)
Courtesy of L'Oreal Paris
By the looks of the new Camila Cabello x L'Oreal Paris Havana Collection, all of my heart is in Havana (ooh-na-na). Cabello teamed up with L'Oreal Paris to create a 14-piece, limited-edition makeup collection that you won't even have to wait long to get your hands on. Come Sunday, July 15, the full collection of bronzers, brow gels, eyeliners, lip glosses, and eyeshadows will be available on Ulta.com, and come August 2018, the entire collection will be available at a long list of mass market food and drugstores in the U.S. While the exact list of stores hasn't been released, my guess is that you'll be able to cop the Havana-inspired products at your corner CVS while you're picking up tampons and body wash.
According to the brand, the singer wanted to create products to help you live your best life. "I wanted to create something that I personally would wear, and that I know people will love. To me, beauty is about being happy and comfortable in your own skin, so you can live your best life!" Cabello said in a press release from the brand. The singer's signature look and her everyday approach to makeup shines through in the products featured in the collection, with the natural-looking, yet sultry shades and a mix of playful yet wearable colors.
As for the products themselves, the collection is inspired by Cabello's hometown Havana, Cuba, and features five different key products. The line includes Havana Sun-Lit Bronzer, which comes in liquid form and is available in two different shades; Havana Gotta Give Brow, another liquid formula coming in three shades; Havana Flash Liner, a liquid eyeliner in black with a felt-tip applicator; Havana Lip Dew, a lip gloss with a doe-foot applicator available in four different hues; and finally, Havana Eye Shadow, four creamy shadows to give you a huge range of looks, from totally natural to super sultry.
Since leaving Fifth Harmony and becoming a solo artist in 2017, the 21-year-old's music isn't the only thing Cabello has gotten attention for. Her prime beauty looks have not gone unnoticed. From her fringe look and classic makeup at the 2018 Billboard Music Awards to her constantly glowing skin, it's no wonder she sealed a deal with one of the biggest brands in beauty. So if you're looking to create the songstress' signature look using the new Camila x L'Oreal products, she suggests playing up your eyes in a low-key way. "I love to use nude shades mixed with an accentuated flirty eye that makes me feel natural and glowing" says Cabello.
While the collection's range of colors and shades easily deliver a sun-kissed, bronzed goddess look, inspired by the warm Cuban sun, the packaging of the products also helps to depict the vibrancy of Cuba's capital city: Each product design features bright teals and lush pink flowers.
What's more is that each one of the products featured in the new collection is under $15, so if your bank account can't exactly fund a trip to Cuba right now, you can still achieve a Cuban sun-lit glow without purchasing a pricey plane ticket. (I will say, though, that if you can make the trip, it's totally worth it.)
As you continue to soak up the sun this summer and pump one of Cabello's many, many jams on Spotify (naturally, "Havana," but also "Never Be The Same" and "Crying in the Club") make sure to head to Ulta.com come July 15 or to a drugstore near you come August for the ultimate, Havana-inspired sun-kissed look. You deserve it.